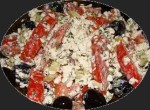 It is summer and it is also time for a cold salad recipe. In Russia cottage cheese is very abundant and very popular. Cottage cheese in Russia would be better termed "Tvorog" and is ideal for making a salad with. No excess moisture and delicious in flavor…
So as usual there is a million versions of any recipe made in Russia and since tomatoes -n- peppers are plentiful right now in Russia, lets make a salad that is healthy and delicious at the same time…
Ingredients for Recipe:
Tomatoes – 2 medium
Olives – 2-3 Tbs
Sweet red or yellow pepper- 1 each (or some of both)
Dill weed, parsley- to taste
Salt – to taste
pepper – taste (Russians are not big ground pepper eaters, but I am :))
Cottage cheese – 3 Tbs
Preparation of Recipe:
Slice tomatoes and olives. Cut sweet pepper into small cubes. Finely chop dill and parsley.
Mix all with cottage cheese and add salt/pepper to taste. Decorate the Cottage Cheese Salad with olives on top…
Thoughts:
Use any type of raw vegetables that you want. It is really a very simple recipe and as most Russian recipes, it is rich in flavor and protein. Russian usually make this salad at the cook out as it is that easy to make and everyone tries to get at least one serving as the bowl is passed around…
Post by Kyle Keeton
Windows to Russia…
The copy scores 65.6 in the Flesch Reading Ease test, which is considered OK to read.