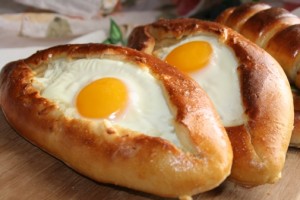 Okay I know that this is Georgian and not Russian! But OMG it is so good and so bad for you that I had to put it in the recipes. Russians love it and you can find variants of it as you travel Russia and Ukraine, but no one makes it like I have seen it done in Georgia and that is so good that it is sinful…
Lets try to make a Khachapuri…
Serves: 4 – Total time: 1 hr 30 min – Prep time: easy – Cooking time – long…
Dough:
1 1/4 cups yogurt (full of fat)
1 egg
1/4 tsp baking powder
1/4 tsp salt
3 1/2 cups wheat flour
Filling:
9 oz mozzarella cheese
9 oz cream cheese
1 egg
1 1/2 tbsp butter
salt (taste)
butter (for frying)
Lets Make:
Make a smooth kneaded dough out of the dough ingredients. Use as much flour as needed to keep dough light without it sticking to your hands…
Set the dough aside to rest for 30 or 40 minutes…
Next Prepare the filling. Grate the mozzarella and then mix with the cream cheese. Add the butter and process into a smooth, glutinous mixture using either a hand mixer or a wooden spoon.
Season with salt, if needed, and divide into 4 balls.
Then shape the resting dough into 4 balls and roll these out to form 8 inch circles or like the Georgians like to do, ovals.
Put the cheese filling balls into each dough circle and bring the edges of the dough circle up as a bowl. Crack and egg on top inside the bowl. They pinch the ends to make the bowl have strength…
Use a cast iron skillet and pour melted butter into the bottom. Lay the uncooked Khachapuri in the skillet and put in a medium oven, on center rack… (I toss an extra chunk of butter in to help the pan fry effect.)
Think of Pizza Hut Pan Pizza when you do this. The Khachapuri pan fry's and bakes at the same time…
Takes about 25 to 30 minutes to oven fry. Serve hot or at room temperature…
The recipe makes 4, but it is hard to get 4 in the oven so do the best you can, I do promise that everyone will love these delights and they will bug you time and time again to make them. They are great for breakfast as well as dinner. They can be made on a sheet pan also and they even can be skillet fried on a stove if desired. Experiment with seasonings and you will find the correct combination that makes your family scream for more…
An old Blodgett oven is the perfect oven to bake these in…
Yummy, now this is a meal…
Kyle Keeton
Windows to Russia…