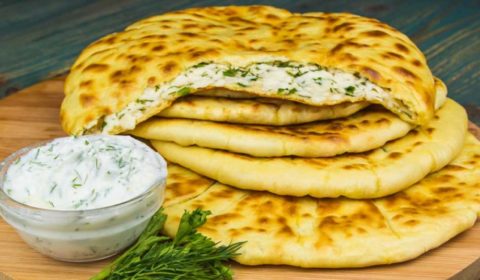 Khychin (Хычины) is a thin flat bread made of unleavened dough with a filling of potatoes, cheese, and or meat with fresh grass type veggies (Like dill and parsley.) The dish very very old and is the type of food that can be cooked upon a large flat rock heated by a fire first and or upon just the coals of a fire. Khychin is believed to be the Sun, hospitality, wealth and generosity all wrapped up together in one dish. It is a dish to feed your guests when they come over and it gives a wonderful future and prosperity in return for all…
Lets make Khychin (Хычины) with potatoes and cheese..
For the Dough:
1) 200 ml – Kefir (You may want to use butter milk and or sour milk! Kefir is a required taste in life…)
2) 250-260 g – Flour (plus for counter top to roll out dough on)
3) 2 – Eggs
4) Salt – 1/2 tsp
5) Baking Soda – 1/2 tsp
6) Sugar – 1/2 tsp
Enough – Vegetable oil to fry with and or Pam spay stuff… (Only if needed, should be fried dry…)
Enough – Butter to melt down and baste each bread with, after frying…
For the filling:
1) Mild yellow or white Cheese – 150 grams (Or if you like sharp cheddar is good.)
2) Green stuff (parsley, dill, coriander) chopped 1 healthy handful of the stuff…
3) Potatoes boiled and mashed – 150 grams
4) Salt to taste…
5) Pepper to taste…
If desired even garlic can be added…
Mix ingredients in a big bowl, all except for the butter, knead until a soft, plasticly dough. It should gently stick to your hands, but not wet sticky. Form a ball from all the dough, place in a greased and or non stick container, covered with cloth and leave for 1-2 hours. In a warm place…
Mix the filling in a bowl, grate the cheese or grind it up. Add chopped greens, salt and pepper to taste. Then, stir in the mashed potatoes. It should be not too wet and able to be easily formed into 6 identical balls of product…
Go ahead and divide the dough that has been sitting aside into 6 parts. Roll each part into a ball, lay them aside…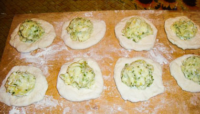 Sprinkle your work surface with flour and roll the ball of dough into a circle with a diameter of about 4 inches. Place one of the balls from the filling in the center of the circle, lift and carefully wrap the filling with dough and seal the seam with slightly damp fingers, Pinch the seam shut. Turn the whole thing seam down and roll it again to a thickness of 1/4 inch. Also prepare the rest of the six dough balls the same way….you must roll gently to not allow the filling to try to escape. But if all products are dry enough to start with? All is good… Just think stuffed pizza…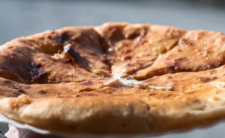 Fry the pancake like doughs in a well-heated dry if possible, but good non stick frying pan on both sides (brown them to an even almost burnt in places), just like delicious pancakes. Some people have a favorite cast iron skillet and know what to do. Remember once the dough starts to swell and puff, turn it over to the other side. I like to flip them several times….sometimes you need to use oil to keep from sticking to the skillet…
Ready cookies spread out on a plate with a pile, wipe each with butter. Before serving cut each into 4 parts – so they will be easy to eat for little fingers…
Serve Khychin warm, but remember the filling (cheese) can be dangerously hot…
You can make these with any filling you desire. They are made with meat and other veggies all the time. You can oven bake them. You can make dessert treats from the dough balls with a sweet filling. You are only limited by your imagination…
Your family will eat them as fast as you make them… 😉
Oh, it is Russia and you might want to get a bowl of sour cream and dip them in it….or maybe some caviar spread across the top…
Yummy…
WtR
PS: Theses are excellent with spinach and cheese inside.
Oh My!