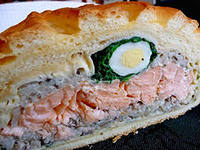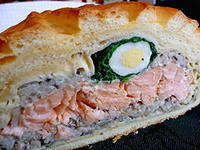 This Russian dish served from one end of Russia to the other is known as Kulebyaka. It melds moist salmon with hard boiled eggs and fluffy rice, then all encased in crispy pastry. Kulebyaka is usually made as one long roll, but it could just as easily be made into individual fish pies or even into a huge casserole dish…
Yes there is a million ways to make this and this is just one way! I say use your imagination and make it the way you want to. This recipe will get you started and I promise that your family will find this a great way to eat healthy and good for you salmon…
Ingredients:
2 oz of real butter
1 small onion, finely diced
6 to 8 oz long grain wild rice, cooked till very soft…
1 tbsp fresh dill grass, finely chopped
1 tbsp fresh lemon juice
1 lb puff pastry – not frozen
1 lb salmon fillets – no skin and shredded, I like to pre-cook the salmon…
3 medium eggs – hard-boiled and finely diced
1 raw egg – whipped
Salt and black pepper – actually I love it best with a touch of crushed red pepper…
Flour for the rolling pin and surface
How to Make Salmon Kulebyaka:
The oven should be pre-heated to around 350ºF
While oven is pre-heating, make sure salmon and rice are pre-cooked…
Lightly oil a baking tray, to lay the finished product on to bake.
Melt the butter in a saucepan, and add the finely chopped onion. Cook for approximately 10 minutes, until the onion is just tender, and slightly golden brown and getting opaque.
Stir in the pre-cooked rice, adding chopped fresh dill, fresh lemon juice, salt and pepper to taste, all with the butter and onion in the sauce pan.
On a lightly floured surface roll out the thawed puff pastry, to make a 12 in square. Try to use only enough flour to do the job. Excess flour will toughen the pastry as will excess working of the dough.
Spread the rice mix over the pastry, but leave a border all round of about ½ inch.
Arrange the pre-cooked salmon pieces on top of the rice, scatter the chopped egg over the salmon. I also toss a little salt and pepper on top for good measure. This is where you can apply crushed pepper as you desire and that is yummy…
Brush pastry edges with whipped egg.
Fold the pastry twice to form a rectangle. Press the edges together to seal in the contents.
Carefully lift the pastry onto the oiled baking tray and glaze the top with beaten egg.
Pierce the pastry on top in several places to allow steam to escape. Those who are artistic can cut a design…
Bake on the middle shelf of the oven for approximately 40 minutes. After 30 minutes cover the roll with foil to keep from burning the top.
Leave on baking tray to cool. Garnish as you desire and once cool enough slice and serve. This makes about enough for 4 people or one very hungry person.
How you serve this dish is up to you, either as a light lunch accompanied by a mixed salad, or as a main meal. It goes particularly well with boiled new potatoes and mixed vegetables. If carefully wrapped in foil the Salmon Kulebyaka travels well and makes good food on a Russian train…
This product can be made with cabbage, ham, pork, chicken and just about anything you desire…
Enjoy, I know you family will…
Kyle Keeton
Windows to Russia…