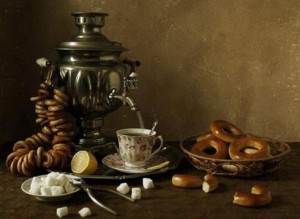 Baranki were first introduced to me, Sveta and I were traveling to Ukraine by car. We stopped at a quick stop and picked up these doughnut looking things. I had no idea what to expect and I will tell you that while they are shaped like a doughnut, they taste like a slightly sweet pretzel without the large grain salt on them. They are not deep fried. they are boiled in water, then baked and many times come with poppy seeds layered on them. Russians love poppy seeds…
They are a mainstay during the times we stay in the village. They are perfect for tea or coffee as you discuss life around the kitchen table…
Lets make Baranki.
List of Ingredients:
8 eggs
1/2 cup olive oil
1 tsp. pure vanilla
1/2 tsp sea salt
3 cups unsifted flour
1/2 cup raw sugar
Egg Wash:
1 egg
salt two pinches
Recipe:
Separate eggs…
Whip the egg yolks and sugar together and slowly add the oil, vanilla and salt. Mix well…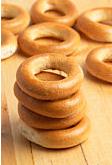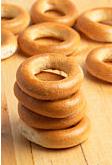 Then beat the egg whites and add to the creamed egg yolk mixture made above. Gradually add flour until dough forms, you may need to add more than the 3 cups indicated above. Counts on egg size etc…
To make baranki: roll dough between your hands to make a rope and twist together and form a doughnut shape… (Picture to left!)
Boil pot of water: Then add baranki to boiling water and cook for about 5 minutes. Drain on a clean cotton tea towel until all water drains away…
While water drains, whip egg wash in a bowl…
Then put on a greased or papered cookie sheet, egg wash the baranki. Turn oven on to 425 and bake the baranki for 15 minutes. Turn oven down to 375 and bake for about 45 minutes. Until they are golden brown…
Oh! Yummy!
Posted by Kyle Keeton
Windows to Russia…