26th November, 2013 by kKeeton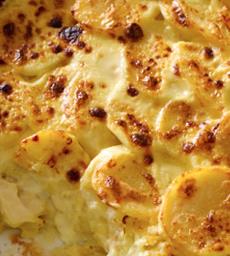 Once again this is a great recipe for the upcoming holidays. Russians grow lots of potatoes and cauliflower, so it is a natural to mix the two together. Much of the winter food in Russia is high in starches and carbohydrates. The winters are long and hard, so you need energy to survive. Besides these foods like this recipe are full of vitamins and minerals…
Lets make Cauliflower with Potatoes…
Ingredients:
1 ea whole cauliflower head, cut and boil first until tender
1 lb boiled potatoes peeled or not, your choice
1 ea big onion, yes big and chop it up into tiny pieces
2 ea eggs
3 tbsp flour
salt and pepper to taste
parsley greens as decoration
Lets make:
Fry the already boiled and cut up cauliflower in a skillet, with the finely chopped onion. Once the onion is translucent, put cauliflower parts with onions, thin sliced raw potatoes in a greased glass baking dish. Then pour over eggs after being beaten, with the flour and salt/pepper mixed in as you beat the eggs.  Then bake in the top of the oven oven, which is preheated to 325 F. I lower the temperature to 300 F, and turn the oven to bottom heat only. Then bake at least 30 minutes and check until done. Takes about 45 minutes total. The top should be brown, not burned and serve hot with parsley greens as a decoration…
The purpose is to have cauliflower cooked to death and potatoes still holding their shape. ..
This is really yummy…
Posted by Kyle Keeton
Windows to Russia…
---
Comments System WIDGET PACK
---
A survivor of six heart attacks and a brain tumor, a grumpy bear of a man, who has declared Russia as his new and wonderful home (&) Honestly, I have no idea how much to ask for, but is a gift of even $1 something you'd be able to consider, to help keep Windows to Russia online in a Tiny Russian Village?