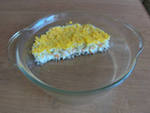 My up bringing on a farm in the Midwest of America did not include a lot of salmon. In fact salmon in my life was canned and labeled pink or red. It was always mixed with bread n eggs and became a cheap meal. Sveta looks at me funny when I mention buying salmon in that form. 90% of the salmon in Russia is fresh and we are talking about tons of salmon everywhere. While not  sea food you would think it is by the fact that many stores in Moscow carry fresh salmon. If you can not find fresh salmon you will find it in a sealed see through pack. It comes smoked many times and salted…
It still amazes me after all these years to see huge isles of salmon at the chain supermarkets. It is not uncommon to see people carrying huge 10 to 20 kilo whole fish out the door to have a feast at home. In fact I think that I am stifling Sveta's desire for salmon because it does not cross my mind as a normal food item. But to a Russian it is as normal as caviar…
So lets do a few salmon recipes over the next month. It is only fair, because Russians love salmon…
Lets try: Salmon and Potato Salad
Ingredients
3 eggs (boiled hard sliced or diced)
4 potatoes (cooked, peeled, shredded, cubed or diced)
1 to 2 tablespoon cooking oil
1 onion (diced and chopped)
16 (1 lb) ounces of salmon raw or cooked (I prefer cooked and you can use canned also. Just drain well! Cut raw into thin strips.)
1 to 2 cup mayonnaise or as needed
1 tablespoon chopped fresh parsley or mint as a garnish if you desire. (Russians say grasses)
Directions
Put eggs in a saucepan and cover with cold water. Bring water to a boil for 10 to 12 minutes or use your method of hard boiled eggs. Remove from hot water, cool, and peel.
While the eggs are cooking, place the diced potatoes in a saucepan with just enough water to cover. Bring to a boil, and cook for 10 to 15 minutes, or until tender. Remove from heat, drain, and set aside to cool.
Heat oil in a skillet over medium heat. Add onions, and saute until lightly browned and translucent, about 10 to 12 minutes.
Flake (lay) salmon and spread it over the bottom of a glass baking dish or serving dish. Spread the sauteed onions over the salmon. Gently spread a little bit of the mayonnaise over the onion layer. Top with potatoes, and spread enough mayonnaise just to add moisture to the layer. Finally, slice the eggs, and cover the layer of potatoes. Spread mayonnaise over the eggs, and garnish with chopped parsley or what ever grass you like. If you wish, you can reserve some of the egg to chop and sprinkle over the top as well. Chill for 1 to 2 hours before serving.
Sveta loves a salad made at the near by store that follows this same pattern. This is not a hot dish at all and is served cold and is considered a salad.The onions do not have to be cooked if you love raw onions,. I also see this dish with a layer of shredded cooked beets on top, carrots in it, corn in it and you can dice the eggs and I find that I like it better as a warm dish and that is most likely the German/American Midwesterner in me… 🙂
Remember as always that there are as many recipes of this salad as there are Russians. This is a true Russian favorite…
Kyle Keeton
Windows to Russia!