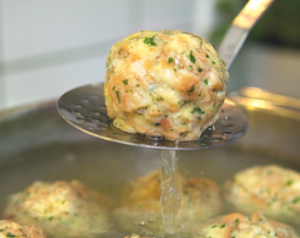 How about a delicious Russian dessert? Of course all Russian desserts are delicious. This one is no exception and will tantalize the family for New Years…
Ingredients:
3 or 4 Apples, peeled, cored and finely diced – according to size.
2 tbsp lemon juice
2 tbsp orange juice
2 tbsp finely grated orange or use the lemon rind or use both
100g/4oz sugar
2 Eggs, whipped
50g/3oz fine chopped white breadcrumbs
Water for boiling
Powdered Sugar
Instructions:
1. Place all the ingredients (apart from the water and powdered sugar) in a mixing bowl and mix well. Cover with cling-wrap and chill in the refrigerator for 30 to 45 minutes…
2. After chilling, remove from refrigerator and form into small balls about the size of a large walnut…
3. Bring a large pan of lightly (pinch) salted water to help the boil, reduce the heat so the water is bubbling steadily not boiling vigorously, then drop the apple balls into the water, cover and cook for 15-20 minutes…
4. Remove with a slotted spoon and drain on kitchen towel paper…
To serve – cool dry and dust with powdered sugar. Can also be served with a fruit syrup poured over top or just dip them in it and eat…
Happy Holidays…
Kyle and Sveta
Windows to Russia!