Russian style? You will find that crumb bars are made all over the world. They are made from just about anything, but they come to life when you add cheese to the ingredients and that is what we will do today…
Therefore, while I am sure that you have seen a million types of crumb bars in your life, I am still going to give you a very simple recipe to make another crumb bar. This recipe can be used to create a thousand different variations, those variations make life wonderful and sweet…
In Russia, you will find cheese of some sort in a crumb bar many times. Cheese is plentiful in Russia and I have seen these bars just made with cheese many times…
Lets make a Crumb Bar…
Ingredients: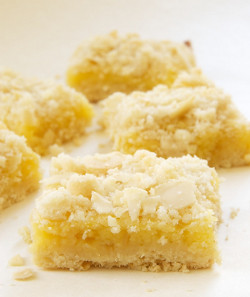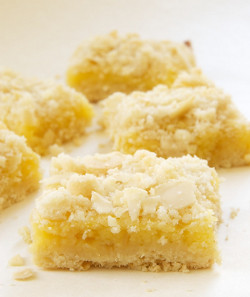 Crusty/Crumbly Mixture:
2 cups shifted flour…
½ teaspoon baking soda…
¼ teaspoon salt…
1½ (12 Tablespoons) real butter, plus 1 Tablespoon for greasing the baking dish…
Filling ingredients:
1 cup cream cheese or even farmers cheese or even tvorog (cottage cheese) will do just fine…
1 cup blueberries or your favorite fruit..
1 cup sugar… (try brown)
4 eggs…
1 teaspoon vanilla extract…
Instructions:
Preheat the oven to 350 degrees Fahrenheit. Grease the bottom and sides of a  baking dish (any dish you have, just make it big enough) with 1 Tablespoon of butter….
In a bowel put the flour, baking soda and salt, then combine. Add the butter, in small chunks (no smaller than that) to the flour and combine, until the butter is dispersed in the flour and is a crumbly texture with pea sized butter pieces throughout. Sorry, but you failed, keep stirring. Okay now you are done…
In another bowl, mix the cream cheese, sugar, eggs, fruit, and vanilla until thoroughly combined. Whisk it. Okay now I know you are tired from beating up the crust, but you have to do at least 5 more minutes of whipping… Okay done… (I add a touch of water sometimes to help liquify the mixture…)
If you are rich and have instruments to mix things with, then by all means use them… 🙂
Put ⅔ of the flour mixture into the bottom of the prepared baking dish and loosely press into the bottom of the dish….
Pour the cheese mixture over the crust and sprinkle the remaining flour mixture over the top of the fruit / cheese filling….
Bake in the oven for 35-45 minutes. Make sure that you are heating top and bottom and in the center rack of the oven…
Sveta and I like the topside darker brown, but most do not. I also like to toss shredded coconut on top and or sliced almonds…
Let the bars cool for 10 minutes before cutting them into pieces….
Posted by Kyle Keeton
Windows to Russia…