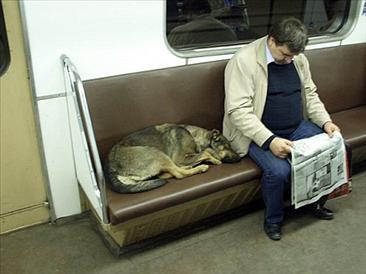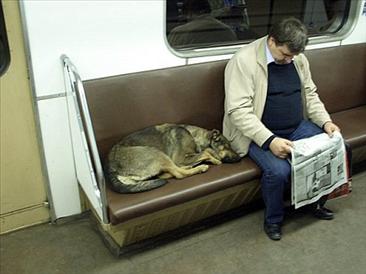 I have not walked the dog the last few days because I have been feeling bad. So I was surprised when Sveta came in last night and said, something is very different and strange outside tonight. I then found out that she meant that all the stray dogs are gone…
So I went out today (Just don't tell Sveta!) and looked at the spots that I know that strays (dogs) are always there. The dogs are gone! We had at least 12+ living around our flat complex. People always fed them but at the same time everyone gripped about them. Sveta said that she is seeing bowls of food and water laying around on the ground and nothing to eat it. Cats are always fed on window sills and such. So you can always tell who the food is for…
The people in Moscow are having a fit over the plan that is in effect, to round up the strays. It seems that they are going to take all these dogs (officials say 25,000+) and take them about 200km away from Moscow. What is going to happen is being mauled around right now, but my thoughts tell me that they will be killed…
So while sipping that cup of coffee (chicory) this morning I was doing some thinking's about Moscow and her stray dogs. First off to say there was only 25,000 strays is a gross underestimation. I would say 100,000+ would be closer and that may be underestimated. Moscow has a huge stray dog issue (or at least they did) and people feed these dogs constantly. People are strange in Moscow. They get up in arms about getting rid of dogs but they will not take a dog into personally take care of. People in Moscow will feed dogs on the street and tolerate these dogs by even stepping over them in the doorways of the train stations and subways. They will care for a dog but never take one in their own home…
One big reason for so many stray dogs is that people toss puppies out on the street and kick their own dogs out on the street because they do not want to be bothered. No one believes in fixing their pets so that excess puppies are not reproduced. It just does not cross their minds here in Russia and or actually considered bad…
So now people are wound up like a fat tick ready to pop. Over something that they created and endorsed for years and years…
But as Sveta said something like, "It is just strange outside." then "All the dogs are gone!" Then she asks something like, why do the people not just take a dog in to care for if they are having such issues?
That is a good question…
You see Boza was a stray and would have been killed by now. He was found by us near a very busy highway and he would not have lasted long. I look at Boza and realize that he is our buddy. He stays by me very close when I am having issues with health as I am now. He seems to know (I need to get in to see my cardiologist and have my medications adjusted)…
So I guess we will see how many of the dogs they got. We will see if any have been hidden or hid themselves real well. But like Sveta said also, "It is so quiet outside!"
She is right, The dogs are gone…
Kyle Keeton
Windows to Russia!
PS: Many people do not want the responsibility of a pet in Moscow, but they will feed the dogs on the street to make themselves feel better about stray animals. We did find one puppy today. It is a she and she is a terrier mix about 6 months old. So many of our dogs are gone and Boza is missing his friends… 🙁
Related articles