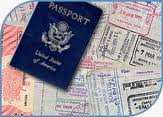 As always getting a Visa to Russia from Ukraine, entails an interesting trip.This trip was no different and I am still dealing with the percussion's of said trip. Windows to Russia got blocked by a software system that has origins outside of Ukraine… (But this article is about visas not censorship!)
Getting a visa for Russia has the same basic requirements.
1. you need two Russian sized passport pictures. (3.5cms X 4.5cms)
2. You need a telex of your invitation.
3. You need two fully completed and signed applications.
4. You must have a copy of your migration card that you received at the border.
5. A clear readable copy of your passport. (black and white is fine)
6. $250 American dollars.
Unless you are getting a work permit visa. You do not need an HIV certificate. I saw two individuals denied a visa this time because they hand carried a invitation into the consulate. It was explained to me again after an inquiry, that telex is the only surefire way of no invitation issues. Any reputable company that gives out invitations from Russia will know all about telex and you let them do their job. Hand carrying a invitation into the consulate seems to be a no no the last few times I have been there…
(If you desire a name of a company that is reputable for invitations ask in a e-mail and we will give you the info.)
The big change at the Ukraine consulate is that no one but no one gets a next day, three day or any quick processed visa. If you do not have residency in Ukraine then you must wait about two full business weeks (10 business days). You will be stuck in Kiev without a passport for two weeks of fun and joy… 🙂
As always the cheapest place to spend you days of fun and joy in Kiev is the hotel that I always go to. It is called the Slavutich Hotel. It runs about $30 dollars a day (254 hrv) and they really are a great place to stay. You must ask for economy and make reservations by Internet to get a good rate. It is cheaper than trying to rent a whole flat in Kiev…
Links to past posts about Visa runs to Kiev Ukraine: We have way too many links to list…
http://windowstorussia.com/new-russian-visa-dance-for-americans-is-in-the-works.html
http://windowstorussia.com/russian-visa-what-you-need.html
http://windowstorussia.com/russia-needs-to-change-and-correct-the-visa-issues.html
Search Link on Windows to Russia for Visa…
Of course this is all different if you are from another country and if it is your first visa. I am American and have received many visas. So this article is for seasoned people who do this all the time. If you are American then your first visa will be obtained in America. The regulations are slightly different. The need for a HIV is one of those differences I believe…
As always with obtaining a Russian visa, nothing is say in stone and I always say call the consulate to find out any issues that have changed. But then again in the day it takes you to travel to get your visa, all the rules may have changed again… 🙂
Kyle Keeton
Windows to Russia!