Rasstegai pie with fish recipe: Traditionally a fish rasstegai is served with soup. Fish broth with fish rasstegai pie, pork and or beef with meat rasstegai pie and (my favorite) rice &carrots & eggs is served with any soup. Rasstegai is a kind of Russian pie with a  opening on top. Rasstegai is served (sometimes) with a side of dipping broth, but connoisseurs will pour the sauce into the opening on the top of the rasstegai, that makes the pies nice and juicy…
In the Big Village near our TRV they have the best rasstegai around…. Yummy…
Ingredients:
2 lb yeast dough (You can buy it frozen from the store. Thaw it…)
2 lb white sturgeon (cook the starry/stellate sturgeon, but most any fish works. Russians like salmon in this also…)
2 ea med. onion (chopped small)
5 oz real butter
salt to taste
black pepper ground to taste
2 tbsp melted butter for brushing
pinch of sugar
Method: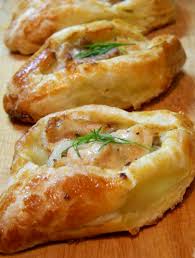 Cook and remove all bones from the fish and chop it…
Season with salt and pepper to taste, you may add a touch of garlic…
Divide the dough into four parts. Roll each out into a large round ball…
Put them on a greased with butter/Pam/oil, baking sheet, flatten the balls with your palm, evenly…
Poke holes all over the surface of the flattened dough with a fork…
Chopped onion into tiny diced pieces and fry in skillet with some butter, add a pinch of sugar, cook until they brown…. Cool the onions down…
Spread the fried onions evenly on each of the flattened dough….and after that spread chopped fish on top the onions…
Then pour over melted butter and pull up and pinch the edges so that it leaves the center with an open hole… (Make a cradle for the stuff inside…) Brush the sides with butter and bake in the oven (at 210-220 C) until it is ready…golden brown….
Traditionally rasstegay is served steaming hot as chaser to Vodka….shot of vodka and take a bite….but they are served many places and people just buy them and carry them to munch on as they walk around….the best are made by babushka…
Use any meat and or veggies and just substitute the ingredients….also do not forget you can put some cheese in there… Oh my so yummy…
WtR