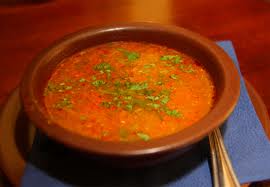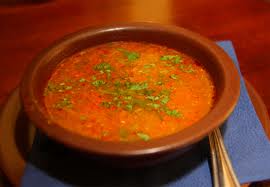 This the last recipe that I am going to post before Christmas. Just look at the link in the menu above and you will find a whole bunch of wonderful recipes to try out for the holidays and or anytime of the year…
Kharcho is a traditional Georgian soup containing beef, rice, cherry plum puree and chopped English walnut. The soup is usually served with finely chopped fresh coriander. The characteristic ingredients of the soup are meat, cherry plum puree made from, rice, chopped English walnut and the spice mix that varies between different regions of Georgia… (See Wiki)
Ingredients:
~ about one kilo of beef, any cut, trimmed and sliced into cubes
~ one medium onion, finely diced
~ sunflower oil
~ bay leaves
~ one cupful of walnuts
~ 4 large cloves of garlic, peeled
~ one heaping spoonful of kviteli qvavili – (mix of cassia, fennel, cumin, thyme, black pepper, and nutmeg)
~ one heaping spoonful of khmeli suneli – (mix of dried herbs and spices consisting of: coriander, dill, basil, bay leaf, marjoram, fenugreek, parsley, black pepper, celery, thyme, hyssop, mint, hot pepper and saffron)
~a cupful of chopped fresh coriander leaves (cilantro)
~ dried and crushed red pepper
~ one large spoonful of tomato paste
~ salt and black pepper.
Method:
Fill a large pot with about 2 litres of fresh, cold water and bring to a boil. Add the beef cubes, lower the heat, cover and simmer gently. Meanwhile, saute the onions in sunflower oil, taking care not to brown them. When softened, add to the pot along with three or four bay leaves. Lower the heat, cover and simmer gently. While the pot simmers, grind the walnuts and garlic through the finest blade of a meat grinder. Season the walnut mixture with the kviteli qvavili and the khmeli suneli and mix well into a smooth paste. Add the walnut mixture to the pot, stirring to make a smooth sauce. Season the kharcho with the tomato paste, red pepper, salt and black pepper. Taste for seasoning. Kharcho should be spicy. Finally, add the fresh chopped coriander (cilantro), remove from heat and keep covered until serving.
This is a soup of all soups. Just remember to adjust the hot peppers if you do not like them. Georgians love spicy and this soup is served all over Russia, not just Georgia…
Posted by Kyle Keeton
Windows to Russia…