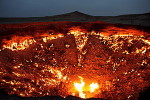 Soviet Time Tidbit: Gates to Hell – Door to Hell: The Gates of Hell is a huge gigantic wide hole found in Turkmenistan. It is not a natural occurring hole but helped to develop by a 1971 Soviet drilling accident that caused the hole to leak dangerous gases. Scientists figured the best solution was to burn them off so they set fire to them. It has been burning non-stop since then and its glow can be seen from miles away. It is not known when (or if) the fires will burn out.
Information: Gate of Hell is located near Derweze, which is a village in Turkmenistan of about 350 inhabitants, located in the middle of the Karakum Desert, about 260 km north from Ashgabat. Darvaza inhabitants are mostly Turkmen of the Teke tribe, preserving a semi-nomadic lifestyle…
The Derweze area is rich in natural gas and while drilling in 1971, Soviet geologists tapped into a cavern filled with natural gas. The ground beneath the drilling rig collapsed, leaving a large hole . To avoid poisonous gas discharge, it was decided the best solution was to burn it off. Geologists had hoped the fire would use all the fuel in a matter of days, but the gas is still burning today. Locals have dubbed the cavern "The Door to Hell".
The whole drilling rig collapsed into this hole and it is still unknown what became of the huge rig. But definitely that added to the folklore, as they say in the rumors, The drilling rig is on the other side of the door to hell…
"In the darkness of night, flames dance and lick the air, casting an ominous glow that can be seen from miles around in the desert of Turkmenistan. The source of all this light and heat is a massive crater, in which blazes an unceasing inferno, dubbed by locals the "Door to Hell." For decades, the fires within the pit have been burning without end, fed by a seemingly unlimited pocket of natural gas. The "Door to Hell" might easily be placed among the world's most incredible natural wonder–that is, if it wasn't man-made. So, what manner of mortal man cast open this gaping chasm and set alight its endless fire, seeming so much like an apocalyptical vision? Well, they were geologists, actually."
This video is great and really as you look into the hole, you can just see how it is the entrance to hell and falling into the hole would be hell, as you are cooked alive, screaming…
Soviet Time Tidbit: Gates to Hell – Door to Hell: One big oven…
Kyle Keeton
Windows to Russia…