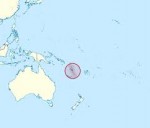 Abkhazia recognized by one more state:
One more state – the island state Vanuatu in Oceania – has recognized the independence of Abkhazia.The Voice of Russia has a copy of a diplomatic agreement signed on the 23d of May…
Source: Voice of Russia.
Windows to Russia!
Update: Vanuatu's FM has confirmed the recognition of Abkhazia, a press-release on the government web-site says. Earlier, Georgia claimed that the island's government denied the recognition.
The South Pacific Island announced the recognition in late May despite the fact that its envoy to the UN denied it.
The breakaway republic has also been recognized by Russia, Nicaragua and Venezuela.