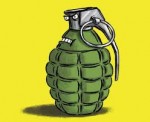 Police officers have detained four suspected robbers who threw a grenade in their direction in the west of Moscow, a police spokeswoman said.
Spokeswoman Natalya Tolstobrova said the incident occurred early Saturday when policemen decided to check the identification papers of four Moldovan nationals inside a Lada car.
"When the police officers approached the car, a passenger threw a grenade at them. It did not detonate because it had no fuse," Tolstobrova said.
All the four were detained. A rubber-bullet pistol and a few rounds of ammunition for a Makarov handgun were discovered in the car.
The detainees are suspected of involvement in a series of robberies of motorists.
Windows to Russia!