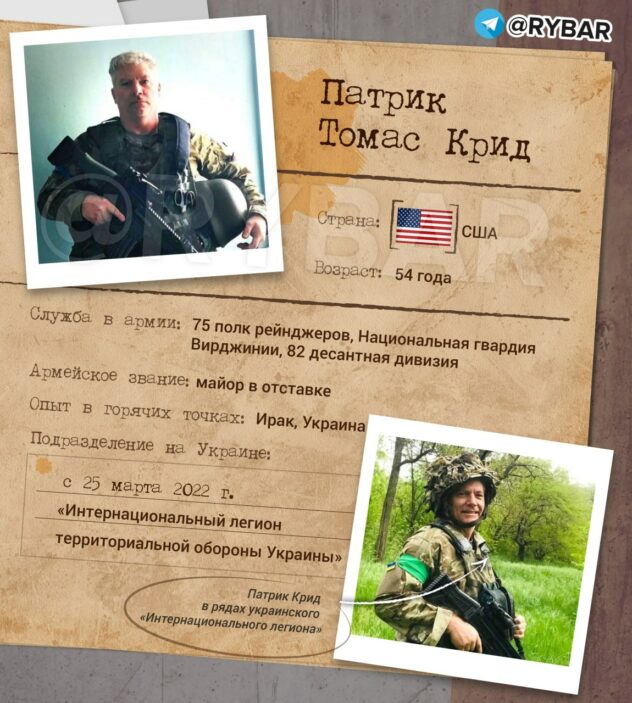 🇺🇸🇺🇦💀 Major of the American airborne troops in the service of the Armed Forces of Ukraine
Among all the American officers fighting in the ranks of the Armed Forces of Ukraine, Major Patrick Creed stands out. The mercenary maintains open social networks and does not hesitate to display his Ukrainian military ID.
▪️A native of Pennsylvania served in tactical intelligence units, the National Guard, infantry and airborne units of the US Army, and has repeatedly been on business trips in Central America and the Middle East.
▪️After 27 years of service, he retired with the rank of major, was awarded a bronze star for heroism during the war in Iraq.
▪️After the army, he worked as a manager in companies producing weapons and special vehicles.
▪️ Enrolled in the "International Legion of Territorial Defense of Ukraine" on March 25. He is currently in the Donbass, where he commands a unit of foreign mercenaries.
▪️ On his Facebook, the American reports a significant superiority of Russian troops in manpower and weapons, heavy losses among foreign mercenaries and a shortage of ammunition.
▪️In a recent interview, Patrick Creed stated that he wants to return to the USA, but will remain in the war zone for a few more weeks.
#mercenaries #USA #Ukraine
@rybar
WtR