ZMZ-406:
The engine was designed from scratch by Russia. A prototype, was a Swedish engine, the H series, which was used in SAAB-9000 cars at the time…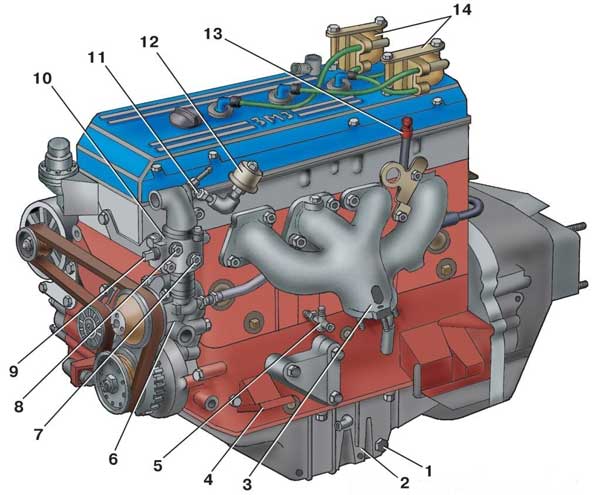 Specs:
Production – ZMZ
Engine make – ZMZ-406
Years of release – 1997-2008
Cylinder block material – Cast Iron
Fuel Supply System – Injector / Carburetor
Type – in-line
Number of cylinders – 4
Valves per cylinder – 4
Piston stroke – 86mm
Cylinder diameter – 92mm
Compression ratio – 9.3 to 1 for injection or 8 to 1 carburetor
Engine displacement – 2286 cc
Engine power – hp / rpm – 110/4500 carburetor or 145/4500 injection
Torque, Nm / rpm – 177/3500 carburetor or 210/3500 injection
Fuel – 92 octane injection – 76 octane carburetor
Engine weight in kg – 185
Fuel consumption, 13.5 kilometers per liter
Engine oil usable – 5W-30, 5W-40, 10W-30, 10W-40, 15W-40, 20W-40
How much oil is in the engine 6 liters
Oil change is carried out, km – 7000
Engine operating temperature, deg. – 90
The engine was installed in these vehicles – GAZ 3102, GAZ 31029, GAZ 3110, GAZ 31105, GAZ 310221, GAZ Gazelle, GAS Sable
More Specs:
Cylinder firing order – (1-3-4-2)
The location of the first cylinder – TVE
Cylinder head material – aluminum alloy
Intake manifold – aluminum alloy
Exhaust manifold – cast iron
Camshaft – 2 each
Crankshaft – cast iron
Oil consumption – max 0.3 liter per 1000 km.
Seasonally recommended oil – synthetic for winter, semi-synthetic for summer
Cooling system forced, antifreeze
Spark plug – A14DVRM or A14DVR
Air filter – Nitto, Knecht, Fram, WIX, Hengst
Oil filter – must be with a check valve
Flywheel – 7 bolt holes with an offset of 40 mm. inner diameter
Flywheel Bolts – M12x1.25, length 26 mm.
Idle speed 750-800 min -1
Coolant system volume – 10 liters
Some more:
1420 kg weight of car
390 kg cargo weight capacity – not including the 5 passengers, according to the manual
Full size spare tire.
R195x15 tires
Tidbit: GAZ 560 (5601) was a special diesel version (very few made)
3110 model Volga started with the ZMZ 402 engine (95 hp), then ZMZ 406 (110 hp) carburetor version came online and then ended with the ZMZ 406 (145 hp) fuel injection version. last production of car – 2008.
Issues of the engine model ZMZ 406:
A. Timing chain tension. It is a big issue. Due to weak tension and guide. Lucky for this engine, chain goes, yet no destroyed valves and piston tops.
B. Overheating of ZMZ-406. A common problem, very often the issue that leads to all other issues. The thermostat sticking and a plugged marginal sized radiator are usually to blame.
C. High oil consumption. Usually the issue is in oil scraper rings and valve seals.
D. Failing ignition coils. On ZMZ-406 this is not uncommon, change and the motor will once again run good.
E. Knocks in the engine. The 406 has weak hydraulic lifters. If you hear a knock? First check the lifters, they go about max 50,000 km.
F. ZMZ 406 stalls. The thing, most often, is in the plug wires, crankshaft sensor or IAC sensor.
If maintained? The engine is capable of 300,000 kilometers…
WtR