A birdbrain follows us around as we walk. This crow is the male of a pair and as I took these pictures, the female is sitting on a nest high in the trees of said park…
I watch these two and they take turns sitting on the nest, though the male is sheepish at getting right on the nest and the female has to come back and kick his ass, sometimes several times. Before he does his job… 😉
When the find food items they try to find a water puddle and soak the food first. Kinda like a raccoon does…
* * * * *
You Drive!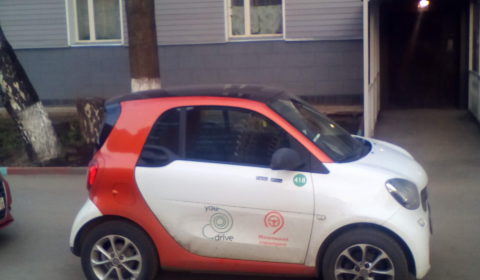 I see these cars everywhere now…
[contentcards url="https://youdrive.today/"]
This seems to be something interesting and I am watching this company. Do they have this in other places in the world?

For registration you will need license, a passport and a bank card. No matter what country you are from. I could drive one of these today. Grab the app for your smartphone, sign up and away you go. LOL…
1.5 rubles a minute parked during the day. 8 rubles per minute while driving. Free all night parking. Cars are parked all over the city and left where the last person finished using it many times. The app lets you find the nearest ride and just go get it. The door had a keypad to enter and keypad to drive it. No actual key looked to be needed…
Moscow the city of terrible terrible and did I say terrible (?) drivers and they let you run around in a tiny little toy car…
Oh well!
* * * * *
Think I will have another cup of coffee and take Boza for a walk…
WtR