Dear President Vladimir Putin,
First of all congratulations for being elected as President of Russia.
This is a historical period for Russia and critical for World Peace.
My brief introduction is Brigadier Nadir Mir (Retired) from Pakistani Army. Now I am a writer, geopolitician and working for world peace. Some of my articles have been published in Pravda ru and Windows to Russia. In my book 'Gwadar on the Global Chessboard' I have urged the need for Russian cooperation at Gwadar. I am a strong believer of Russian – Pakistani friendship. Your dynamic and strong leadership is required by both Russia and the world. Your peaceful geopolitical efforts are restoring world balance. The people of the planet yearn for peace and prosperity and look up to you as a world leader.
In Pakistan, we seek very close relations with Russia. Your visit to Pakistan is being eagerly awaited and I would like to work for Russian – Pakistani friendship.
In the end I pray for your good health and prosperity for Russia.
With best wishes and highest regards
Brigadier Nadir Mir
Soldier to Scholar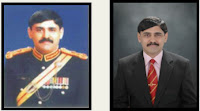 Nadirmir13@gmail.com
Mobile number: XXXXXXXXXXX