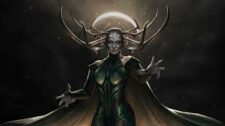 I was almost convinced on the idea by the Western media ~~ that Kim was dead….and started "building castles in the air" about his sisters (Kim Yo-jong) ascension to power. I had a Thor: Ragnarok image in mind, as in the movie, the evil sister came back, Death Herself, looking to ascend to the throne of Asgard. Even if she had to kill everyone to do it…
Therefore, I must lessen my dreams and just be content with looking forward to many more rockets being fired into the Sea of Japan again & and a continuation of lies by western media… 🙁
Welcome back Kim…
(Seoul = Yonhap News) Reporter Park Soo-yoon = North Korean leader Kim Jong-un, who was overwhelmed by the theory of death, resumed public activities in just 20 days and showed off his health.

On the 2nd, Chosun Central Broadcasting reported that Chairman Kim attended the completion ceremony of the Suncheon Infertilizer Plant the day before Labor Day (vs. 5).

The broadcast said, "The completion ceremony of the Suncheon Infertilizer Factory, which stands out as the main fertilizer production base, was held on May 1, which is the international holiday of workers around the world." "Our party, the Supreme Commander of the People's Republic of Korea, and comrade Kim Jong-un, the leading leader of the country's armed forces, attended the completion ceremony."

It is the first time since Chairman Kim presided over a political party meeting at the Central Office of the Workers' Party in Pyongyang on the 11th of last month.
Oh how our dreams are smashed by them such as Kim Jong-un. How dare he play with my heart that way and cause the western media to print lies and more lies and left them with egg on their faces…
Kim Jong-un do not play with my heart like that. ~~
WtR