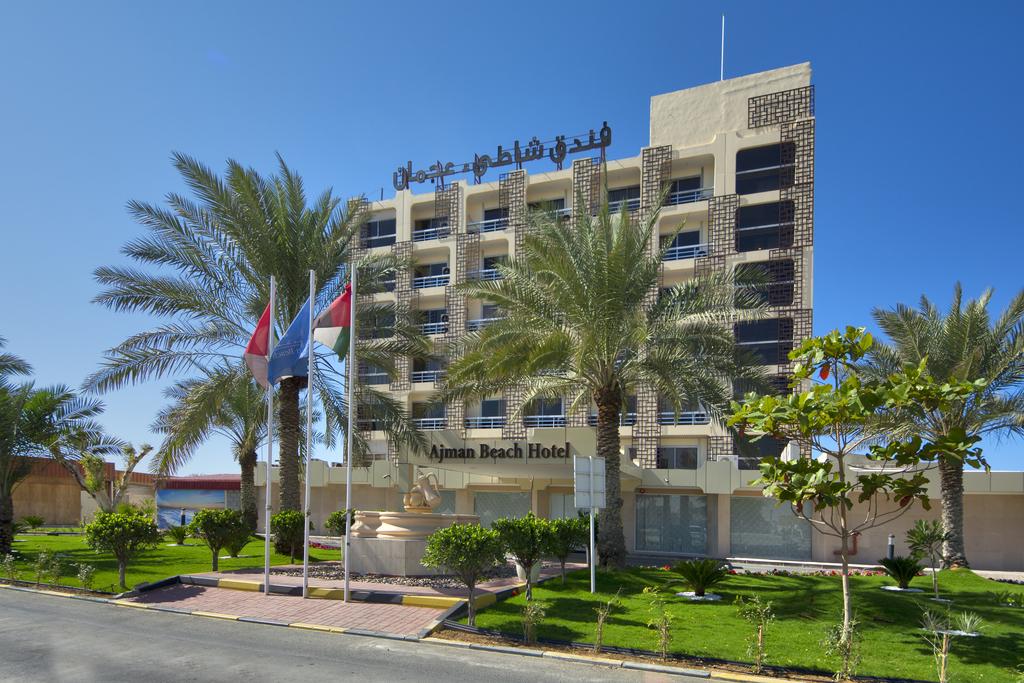 Dear Ajman Beach Hotel,
We wrote this for trip advisor, but we want to get it also directly to the Hotel. So many times people only talk about how bad things were and never about the good. My wife and I would like to thank all the hard working staff that the hotel has. I am a retired chef and Food Service Director, I want special thanks to go to the food service of the Hotel, the food was fantastic. We also had a young man who kept our room clean and he was a perfect gentleman and very pleasant the whole time we were there…
We had the best time of our lives and we travel extensively…
Thank you again!
---
Where to begin?
Room 412, sea side, my wife and I, and no preconceived expectations. Small hotel, first hotel built in Ajman, location is on the beach and you can literally walk to anything worth seeing. The hotel has a shuttle bus to take you to Dubai and it runs everyday. They are well staffed in all departments and the employees are fantastic.
The sea is crystal clear all the time, we were there for two weeks and even though it rained three times and stormed, never did the sea cloud up with debris and seaweed. We like to snorkel and basically did that everyday. Only one day was too bad to swim, due to high winds.
Food was perfection. They serve fish and a very good whiting fish everyday. Unlike hotels that serve chicken as the main daily dish, they served fish everyday. Chicken as a secondary and beef as a secondary also everyday. I ate so much fish, I though I would burst….it was fried, baked, steamed, sauced, garlic covered, grilled and several other ways. They served rice, potatoes, pastas, many types of vegetables, fruit salads, beans of many types and on and on. They had many types of cold salads from egg salad, tuna salad, Greek salad, lettuce salad, to Caesar salad. They served beef grilled steak, grilled chicken steaks, fried chicken, beef stew, chicken stew, fried egg plane, I mean they served everything and everything was delicious.
But; if you love desserts? They only have homemade custards, ice cream and fruit salad. We do not eat dessert so it never mattered. If you must have an endless display of desserts, then don't go to this hotel. No desserts to speak of…
All other food is endless and delicious and as there were many families, I saw the kids eating happily with all the variety available. Not to mention I gained a kilo in weight during my two weeks. There was just too much food, too good and it was endless. Be alert to the fact that you will basically drink only water, hot tea and coffee. No sodas, no beer no nothing, unless you buy and again, this was not an issue for us.
There were downsides as with everywhere.
The nightlife is noisy until early morning. Not just our hotel, but all the hotels around would party until 3 am. Out hotel has what they call the Lawn and we got to watch many young children's birthday parties. The hotel is run by Indians and thus we had much opportunities to see Indian parties and Arab parties. Thus the noise was outweighed with seeing how cultures partied. I can tell you that men dance with men and they can really dance up a storm. 🙂
I am going to write to the home office of this hotel and tell them how great things were. So many times all we hear is the bad and while we had a few issues, such as one rotten employee and some neighboring rooms smoking in a non smoking floor. In noway does a rotten apple spoil the whole basket and that is what needs to be remembered…
Oh my wife wanted me to remind everyone to go see the Ajman Museum it is about a 800 meter walk from the hotel and worth spending a few hours at. You will learn a bunch about Ajman and its beginnings…
Ajman may be the poorest of the UAE, but far from the least of the UAE. Also spend a day shopping with the locals, you will find that the prices are fantastic and you might have to struggle to get it all home.
I have missed many things, but I already wrote a book as a comment…
My wife and I loved Ajman Beach Hotel and Ajman is a jewel.
****
Svetlana Prostova & Kyle Keeton – Room 412
---
This is the letter above I sent to the home office of the Ajman Beach Hotel…
WtR