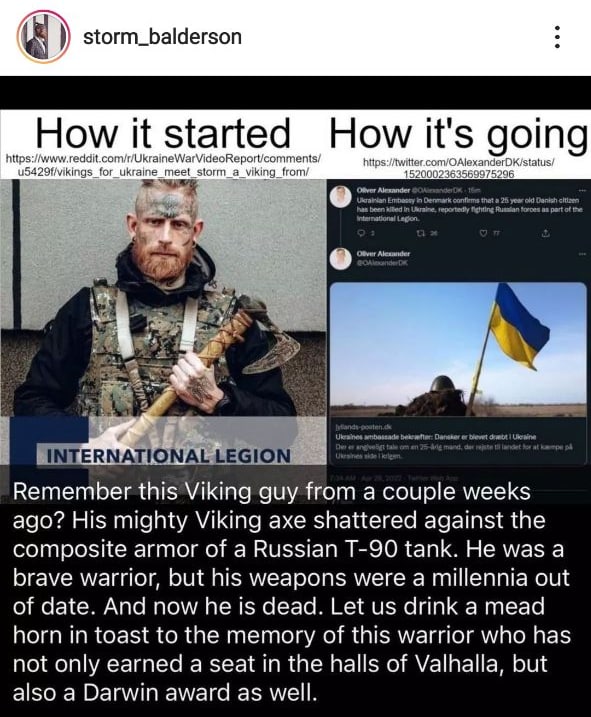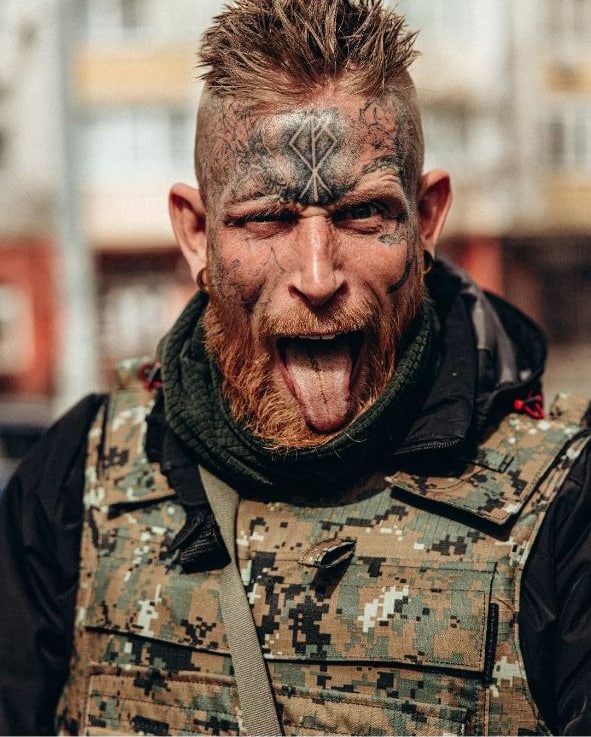 English below.
‼️🏴‍☠️МИД Дании подтвердил гибель датского наёмника из "Иностранного легиона"
Как сообщает внешнеполитическое ведомство Дании, погибшему было 25 лет. Belga News сообщило, что он воевал в Николаеве. Подробную информацию МИД не разглашает.
В соцсетях предположили, что погибший — Сторм Балдерсон (на фото), однако позже мужчина опроверг данную информацию в своём инстаграме, заявив что всё ещё жив. К тому же, Балдерсону уже 32 года.
Балдерсон известен своей помешанностью на теме викингов — парень поклоняется Одину и надеется поскорее перебраться в Вальхаллу. Однако судя по его инстаграму, на фронте он выступает скорее в роли блогера и фотографа, так что никакой рай для воинов ему явно не светит.
Ждём когда появится подтверждённая информация о личности действительно погибшего наёмника.
t.me/RVvoenkor
The !️🏴 ☠️ Denmark confirmed the death of a Danish mercenary from the "Foreign Legion"
According to the Danish Foreign Ministry, the deceased was 25 years old. Belga News reported that he fought in Nikolaev. The Foreign Ministry did not disclose detailed information.
In social networks, it was suggested that the deceased is Storm Balderson (pictured), but later the man denied this information on his Instagram, saying that he was still alive. In addition, Balderson is already 32 years old.
Balderson is known for his obsession with the theme of the Vikings – the guy worships Odin and hopes to quickly move to Valhalla. However, judging by his Instagram, at the front he acts more as a blogger and photographer, so no paradise for warriors clearly shines on him.
We are waiting for confirmed information about the identity of the really dead mercenary it appears…
WtR