Drugs are a big issue in Russia!
I am a person that misses very little and Svet always is amazed at what I always see. I believe that you should be alert to what is around you. At least a little bit alert…
But to me it does not take someone to be alert, to see what I am seeing all over Russia as I walk and travel…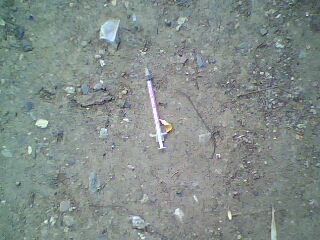 Svet and I have seen syringes stuck in trees as we travel. We have seen them laying on the sidewalks and in the playgrounds. I have written before about this issue…
Russia: A Hard Core Drug Problem is in Russia!
I see syringes everyday that I walk and today I got upset.  Today after I took Boza back in from his walk,  I removed 9 syringes like this from the playground and that is while the kids are playing…
The needle is still on this syringe in the picture above. It was a picture that I took just a few minutes ago. This syringe was most likely used by a large group of 20 to 30 year old that had a party last night in our playground by our building…
I have written about drug problems before and will most likely write about them again. Drugs are as serious of a problem in Russia as it is in America. In fact as I travel the world I am seeing drugs as a hindrance to the whole world. The whole world and that includes your world also…
So while people can keep their blinders on and ignore the state of the world. I guess I will keep my eyes open because I really do not want to be stuck with a needle like what you see above. I also do not want any children to experience the trials of getting aids and or other diseases, because of stupid people that throw their used needles in a playground for children…
I will also express my dissatisfaction at the ability of the mothers that allow their children to play around these type of dangerous items. But then I see some of these same mothers with a beer in one hand, a cigarette in their mouth and the cell phone between shoulder and ear, while pushing the baby carriage around the block…
Yes there are mothers in Russia just like the mothers you have in your country…
Ignorance is no excuse for the safety of your children!
Fancy That!
Windows to Russia!