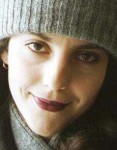 I see the name Elena. It seems that she has enough connections (Her dad.) to allow her to travel unattended through the radiation zone around Chernobyl.  I know very little more except what I have read in her website called…
Kiddofspeed – GHOST TOWN – Chernobyl Pictures –
Elena's Motorcyle Ride through Chernobyl:
I found this site by pure accident and set it aside for a day before I looked at it. I found myself on the 6th chapter to start with and realized that this was a large multiple of works by Elena. I guess I could have looked intensively about who she is, but I found that unnecessary and needless for the enjoyment of the website…
Most pictures were taken by Elena and you will find a story that will stir your soul. She has ventured where few have gone and recorded some very good information and pictures of a disaster that affected the world…
(It made me stop and feel for the Japanese right now because what Elena shows in her trip to Ghost Town is what Japan has in store for their own Ghost Town…)
She revisited Chernobyl again in…
So as I enter deeper into all her sites. It looks like she travels regularly to Chernobyl (Sometimes with a friend and sometimes with her dad…) and it seems that something in her soul drivers her toward the area. Elena lives in Ukraine and also has several other sites that are well worth looking at also…
The Serpents Wall: Will take you on a ride into World War 2…
Stolen Election: About the Orange Revolution in Ukraine…
She even has stories from the Gulag…
Just look at her sites and you will find several themes that she has devoted energy towards. But alas she seems to have changed directions in her life. It looks like 2006 was the end of the main body of information…
In her words: "Writing is just a hobby of mine. I don't have any commercial interest with this site, neither I sell a war relics."
It seems that she had a passion and tried to fulfill that passion. On a motorcycle…
I enjoyed my trip on her website today and I hope you do also. Who ever she is I am glad she chose to record her travels in a world that few of us have ever been to…
Windows to Russia!