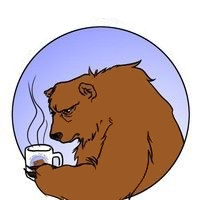 I spent yesterday getting my eyes checked and getting the next appointment for some more tests to run. Trying to be proactive and not reactive about health issues….It has been almost four years since I went to the eye doctor and as she said, "For your age, not too bad!"
Then I was not sure if that was good and or bad and or everything above? For my age? Does that mean I am getting old? So it can be worse? So it could be better?
It came across mentally to me like, "For your advanced age of 1,000,000 years old? Your eyes are doing okay and won't fall out of your head yet!"
That is good right?
Now Svetochka gets an appointment to have a Visual Field Test done for me….my eye pressures are a tad low, one eye is better at seeing than the other and I have some pigmentation on the retina that we will watch….so all good for an old geezer bear?
---
I have to laugh at the hornets nest Russia has stirred up in the USA and EU….I warned everyone right here on this blog that Russia does not bluff and that Russia is getting real tired of being the whipping boy…
---
The more I watch Belarusian President Alexander Lukashenko? The more I like him…
---
Asking for a friend…
1. What happened to Sergei and Yulia Skripal, in a fake poisoning? (Did Britain kill them?)
2. Did someone forget to tell Russia that they were suppose to blow up and invade Ukraine?
There are many more things, but that will do for now….if I could just get answers. Poor Skripals… 😉 and communication is the key to success….next time ask Russia nicely and maybe they will help out when you have stupid endeavors to concoct….then maybe not, huh?
---
Today: SweetPea and I will put up a new bird feeder and feed the baby birds. The snow is deep and all the seeds are buried. Oh my babies in the TRV need me…
WtR