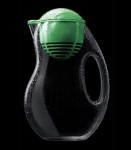 I had a thought today: Here in Russia we filter all drinking water. We filter the water no matter what! We have pitchers with replaceable charcoal filters and we simply filter our water to get out the stuff put in it. We do not filter it to make it safe from bacteria and natural stuff, we filter it to take out the fluoride and chlorine. The stuff that man could and would put in the water…
We are told by the head of the health agency in Russia. They say to get that bad stuff out and do not assume water is safe to drink. They admit that they put chemicals in it to make it void of bacteria and other terrible things and they also tell us to get those chemicals out, for they are not safe…
I was thinking about:
What if everyone in America would filter the water before they drank it? In a few months would we see a change in the way people think?
I really think that we would see a change in people. I think that many people would start questioning what is around them and why it is there…
Everyone I know filters the water in Russia!
Filter your water, remove those chemicals that are put in that water…
Post by Kyle Keeton
Windows to Russia…
The copy scores 77.2 in the Flesch Reading Ease test, which is considered fairly easy to read…