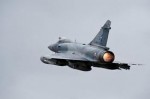 U.S. Defense Secretary Robert Gates said on Tuesday the significant military fighting going on in Libya now "should recede in the next few days."
He told his Russian counterpart Anatoly Serdyukov in Moscow that the Western-led coalition was "going to great lengths" to avoid civilian casualties.
"Many of the targets were in isolated locations," Gates said.
Serdyukov said the beeline to the security of civilians and long-term stabilization in Libya was an immediate ceasefire and the start of dialogue.
"We are once again calling on all Libyan parties to the conflict as well as participants in the military operation to do everything they can to stop the violence," Serydukov said.
Russia was one of five countries, including China, that abstained from a UN Security Council resolution adopted on Thursday. The resolution imposes a no-fly zone over Libya and allows "all necessary measures" to protect civilians from leader Muammar Gaddafi's attacks on rebel-held towns.
Operation Odyssey Dawn entered its third night of airstrikes on Libyan air defenses on Monday. Libyan state television has reported that at least 60 civilians have been killed and over 150 wounded.
Russian Prime Minister Vladimir Putin on Monday likened the UN resolution to a "call for a crusade." The comments were swiftly rebuked by President Dmitry Medvedev, who described Putin's remarks as "unacceptable."
Windows to Russia!