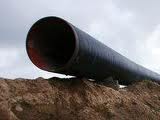 Ouch again: Not long ago I posted that Hungary said adios to the Nabucco pipeline! A pipeline that was invented to try to hurt Russia, by a very vindictive cold war Europe! Well guess what? When it rains, it pours…
Germany's RWE energy company has confirmed a report in Der Spiegel that it is withdrawing from the Nabucco project to pump Caspian natural gas to Europe across Turkey. It cited the doubling of cost estimates to $15bn and the uncertainty over gas supply contracts with Turkmenistan and Azerbaijan.
A few weeks ago, Hungary said it was withdrawing from Nabucco.
The Nabucco pipe was designed as a competitor to Russia's South Stream.
ITARTASS