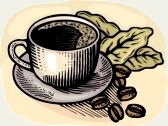 After reading a whole bunch on coffee and deciding that a good friend of mine who is a nurse, has expressed that I really should try just a cup of coffee a day. That cup of coffee actually could save your life is how it has been put to me. So I am sipping a cup of coffee from Kenya this morning and it is really good… 🙂
So yes, I still have thinking's over coffee like I do over chicory…
It dawned on me that people who frowned at people like me 10 years ago are starting to become, not so frowny. More people stop and contemplate and that is a good thing. In the past they were all happy as long as they got what they wanted. As long as their little world of bubbles did not have too many bubbles pop, then all was good. The change is not big and really can only be seen from the outside of America, but you see the issue is they still don't protest wars where we kill other people in other countries by the hundreds of thousands every year, but they will take to the streets about gay rights and tuition raises…
Yes they care much more about whether a gay can get married or it cost you a few more dollars to go to a collage, that your degree is worthless from anyway, but they will sit in their homes and say, "Oh Suzi Q just told me that we killed a million civilians in Iraq and Afghanistan over 10 years. Honey will you pass me the ketchup please?" Honey says, "Oh my, that is terrible! Here is the ketchup!" Then they both turn to Junior and ask how was school today as Junior wonders in his little mind, "Were is Iraq and are they rats or something that we don't care about?"
I look at an interesting site that is called Change.org and you need to go there to understand the American mentality. While there are things on there that I do support, most of what is on this site is hogwash and only associated with feeble minds.Put a petition against the war and about anti-war and no one signs it. Put a petition about hugging gays every morning before breakfast and hundreds of thousands of people sign it in hours. I saw a month old petition that said "Stop WW3" and 25 people signed it. If it says we are killing the rain forest then we riot over it, if it says we are killing babies in another country, we are silent over it and look the other way…
The Change.org site is enough to scare you, because you realize that everything is me – me – me – me – me – me and more me!
Try these picture of two separate, but about the same length of time as active…
The first one is life and death. It is about killing or better yet, not killing people in Iran with our military…

or this one (below) that has no meaning in real life. No one is going to die if this (Photo below) does not take place…

Yes the site is slammed packed full of stupid things that are as night and day as these photos above. But that is where you and I differ. I see the Iran war as a thousand times more important, than if we ever get the dictionary to correct the definition of marriage. I feel life is more important than marriage definition…
I do not have to be married to know who my partner is. I am just as faithful and supportive as if I am married or not. My partner is my partner and that is that. No book will define who and how I marry. If my partner makes me happy then she or he is my wife or husband, period…
So lets back track and talk about seven good things that coffee is good for…
 Cut the Pain in the body…
Increase your fiber intake…
Protection against cirrhosis of the liver…
Lowered risk of Type 2 Diabetes…
Lowered risk of Alzheimer's disease…
Reduces suicide risk…
Protection against Parkinson's…
Hmm, I guess with all that going for it I will drink it again. I also will drink chicory also. It has all that good stuff going for it also… 🙂
Kyle Keeton
Windows to Russia!
PS: You think we could get as many signatures against a war, any war, from Americans as they can get when they have a gay issue going on with JC Penny's. Come on people! The USA killing people all over the world is a huge issue and JC Penny's and gay rights is not even in the ball park, as equatable by humans who value life…


187,000 + signatures and climbing for gay rights and then 35 and holding for "No War with Iran!" Hey how about 4 (Yes just four) signatures for "No World War Three!" How about 15 supporters to say we are sorry to Iraq about killing them by the thousands! How about 4 supporters on "Withdraw from Afghanistan now!" Hmm…
But hey we can get 136,000 and climbing on this:
Domino's Pizza: Stop Making Pigs Suffer…
Afghanistan rates less than pigs any day and that is sad, sad, sad, sad and more sad…
Now you see what is wrong with us! Or do you want to see it?
Have a nice day…
One last picture: This is definitely more important than world war three or blowing up Iran, Afghanistan and Iraq, plus a hundred more.20,000 + supporters to stop killing 400 dogs a year. Okay, I agree, but what about the 400 HUMANS we killed in the last week, in two or three countries that we (Americans) are bombing to death?
I support peace, love and harmony, but that would only get my signature because you all have other things such as gay rights, whales, dogs, cats, rainforests and windmills for power, but if we don't have a world to live in then all that crap will not matter will it?