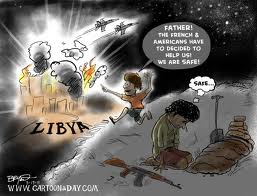 As reported by Agence France-Presse, on September 10, two groups of Libyan rebels from three towns clashed in a fierce battle. As a result, at least 12 people were killed, dozens wounded. No more details have been reported, but the reason for the clashes is the years-long enmity between the inhabitants.
Now that the Libyan rebels have captured most of the country's territory and are launching an offensive on one of the last Gaddafi's strongholds, the town of Bani Walid, the question arises: what's next?
This…
Forces loyal to Muammar Gaddafi have killed at least 15 guards and injured two others in an attack on an oil facility outside the coastal town of Ras Lanuf, fighters of Libya's National Transitional Council (NTC) have said.
Citing NTC fighters present at the scene, Al Jazeera's Hoda Abdel-Hamid said a column of vehicles carrying armed Gaddafi loyalists drove up to the refinery's checkpoint on Monday morning.
Ras Lanuf is located approximately 600km east of the capital, Tripoli.
The attack came as pro-and anti-Gaddafi forces fought fierce battles around Sirte and Bani Walid, key towns still controlled by forces of the toppled leader.
Anti-Gaddafi fighters had reached the gates of Bani Walid, located 150km southeast of Tripoli, on Sunday but encountered fierce resistance from Gaddafi loyalists who ignored a NTC deadline to surrender.
But I was told it was over…
As I have said before about things in life, "It ain't over til' the fat lady sings!"
Damn this has been the longest "few day" war I have ever seen…
What is it – 7 months now? Hummm…
Kyle Keeton
Windows to Russia!
PS: The war drums on Syria are beating hard today…
MOSCOW, September 12 (Itar-Tass) — The Syrian leadership believes that the Libyan scenario does not repeat in the country, Syrian presidential adviser Bouthaina Shaaban said.

Speaking at a press conference on Monday, Shaaban said, "As for the fact that the Libyan scenario repeats in Syria, we believe that it is impossible. The people drew the lesson."

Shaaban said, "Before NATO invaded Libya about 20 people were killed. And now a total of 50,000 people have been killed and 10,000 injured, and 100,000 people remained homeless."

"And nobody in the West is talking about human rights and refugees. And the figures are huge," the Syrian presidential adviser said.

Shaaban denies reports saying at least 10,000 people died in Syria.

"According to our data, a total of 700 people were killed from every side," Shaaban said.

"The U.N. has no such information and one can get it. We have a list of those who died. And we can present it," the Syrian presidential adviser said.
I would say that he is pretty accurate about Libya and about 700 have died in Syria…