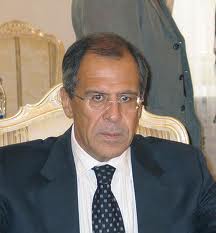 Russia will not allow the Libyan scenario to be repeated in the region's other countries. A statement to this effect was made by Russia's Foreign Minister Sergei Lavrov as he summarized the results of the year 2011 and outlined the agenda for 2012 at a news conference on Wednesday.
Many of the conflicts that broke out in Arab countries in 2011 will remain hot issues in 2012. As changes in the troubled countries have just begun to take hold, the international community should refrain from meddling in their domestic affairs, Russia's Foreign Minister Sergei Lavrov said.
"Nations should be free to choose what path of development they wish to follow and the international community should accept their choice. Foreign countries should refrain from interfering, let alone the use of force. What is happening in one country has nothing to do with what goes on in others. Other countries should focus on their own business and abide by the principle of 'Do No Harm."
A repetition of the Libya scenario has to be avoided at all costs. Unfortunately, some western countries attempted to pursue a similar scenario by offering their so-called "assistance" for resolving the crisis in Syria. Russia will do its utmost to obstruct a UN Security Council resolution on military intervention for Syria. Moscow has proposed a draft resolution which stipulates non-interference and non-use of force. China supported this wording. As for the western partners, they disagree on these two points and this cannot but cause concern.
In addition, Russia will be working to secure a diplomatic solution for the conflict involving Iran and will do whatever it can to settle it through negotiations. Sergei Lavrov had this to say.
"New unilateral sanctions against Iran are designed to stifle the Iranian economy and sow discontent among the Iranian people. Russia is confident that the chances for the talks between the six mediator countries and Iran to resume are quite good."
Even though Tehran is not easy to deal with, it is willing to embark on a dialogue with the IAEA and allow inspections of its nuclear facilities. But the West itself isn't always helpful at promoting such a dialogue. For example, the US and Iran have had no diplomatic relations for 30 years as Washington continues to insist that Iran is posing a major threat to global security.
When asked about Russia's relations with the US, Sergei Lavrov said that they were of primary importance. Even though Moscow and Washington have established a successful partnership in global security, the differences between them are still there crying out for solution. The US' plans to create a global missile defense system have been a stumbling block in bilateral relations for years. Sergei Lavrov expressed hope that Washington would opt in favor of joining international forces in the face of new challenges.
"The logic behind Russia's stance is crystal clear. Russia will respond in an appropriate way if someone dares deploy weapons which pose a threat to its national security near its borders. As for our US partners, their motives are hard to grasp. On the one hand, they are saying that their missile defense plans are not aimed at breaking the nuclear balance. They argue that the missile defense shield is needed to guarantee them protection against missiles which could appear in countries outside Europe. On the other hand, they reject our offer to create a joint missile defense system which would pursue these very purposes."
At present, however, there are no reasons to expect either a confrontation or a new arms race, Lavrov said.
The Russian Foreign Minister assured those present at the press conference that Russia's foreign policy would undergo no changes in 2012. Russia will continue to seek to ensure favorable conditions for the country's modernization, make every effort to ensure international stability, and continue to insist on collective decision-making in crisis situations.
Article Source: http://english.ruvr.ru/2012/01/21/64323896.html
*** As I have said before. Lavrov starts the information flowing and then it expands exponentially to the president of Russia. Russia is making clear that peace is the solution but Russia will not stand idly by any more and watch the abuse that is happening within her realm of influence. Syria and Iran are in her area…
Windows to Russia!