One of my favorite dishes. Well until the last few years when my insides decided to change how I eat. But that is personal and has nothing to do with how wonderful Morkovcha (Korean Carrots) are to eat…
Ingredients:
1kg carrots shredded
½ tsp of onion powder
½ tsp of garlic powder
2 tsp sugar
1 tsp salt
½ tsp white pepper
½ tsp of powdered paprika
1 tsp powdered coriander seeds and or whole/cracked if you like
Pinch or two of cayenne pepper or more for hotties. (I use less than called for, add what makes you happy.)
3 tbsp apple vinegar
5 tbsp of salad oil
Instructions: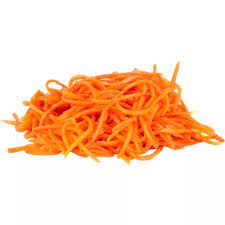 Peel the carrots, and shred them long thin pieces…
Put carrots in a mixing bowl…
Add the oil, vinegar, salt, sugar, paprika, white pepper, coriander, cayenne, garlic and onion to the carrots…
Mix very well, but gently until thoroughly combined and cover, then refrigerate until cold and let sit and marinate 24 hours. I feel you should stir them in the bowl several times to mix better as they marinate…
Serve drain and as a side dish or as I do, just eat them as a meal!
WtR
Koryo-saram (ethnic Koreans located in post-Soviet countries) created the dish as they did not have supplies of Baechu cabbage, the main ingredient in traditional kimchi. In Central Asia, where many Koryo-saram have lived since the deportation of 1937, the salad is also named morkovcha, which is a combination of Russian morkov ("carrot") and Koryo-mar cha, derived from Korean chae (채) meaning salad-type banchan. The salad was unknown in South Korea until recently, when Russo-Koreans' return migration as well as Russian- and Central-Asian immigration became common. However, it has gained an international following, being served in most cafeterias throughout post-Soviet countries, sold in many supermarkets, and featured regularly as an appetizer (zakuska) and a side dish on dinner tables and in holiday feasts set by all ethnicities of the former Soviet Union.
Source: Morkovcha – Wikipedia