Change of tactics for reporting MoD info. These are the links to the actual site and if they can keep the site online, this is better. I will post the links once a day for the previous day info…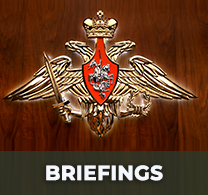 18.07.2022 (05:00) Iskander missile system crews continue launching attacks at AFU military infrastructure facilities within special military operation Russian Armed Forces continue launching high-precision missile attacks at the military infrastructure facilities of the AFU.
18.07.2022 (08:55) Russian Defence Minister General of the Army Sergei Shoigu inspects Eastern group of troops involved in special military operation in Ukraine Group commander Lieutenant General Rustam Muradov informed Russian Defence Minister about the current situation and the progress on defeating enemy forces within his area of responsibility.
WtR