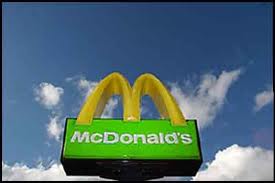 We have a new McDonald's opening up just around the corner from us. In fact it is much less than two blocks away. This location is about exactly the same spot that I told Sveta several years ago that a McDonald's would go gang busters right in that very building that was being built as a new mall. As I have mentioned before, I use to be a District Manger for McDonald's in Georgia, USA!
I spent several years many years ago, scouting locations for new McDonald's and setting up future plans for growth. That was my job on top of watching over several stores also. At this rate I have picked 6 locations for McDonald's that have come true in Russia. It is strange to see the same technical and thoughts going into finding new unit locations as is done in America. That tells me how Western orientated the McDonald's is here in Russia and in fact I have been reading about how McDonald's is going to franchise in Siberia for the growth of new McDonald's…
Here is some information about McDonald's in Russia: McDonald's plans to open 45 restaurants in Russia in 2012, during 2011, the company launched 37 restaurants in Russia. Currently, the McDonald's network embraces 314 restaurants in more than 85 cities all across Russia. The company also expects that poultry processing enterprises will be commissioned in 2012 in Russia's Tula and Kaliningrad regions, and a souse-making line in the republic of Chuvashia. Apart from that, the company plans provide for the launch of a distribution centre in the republic of Chuvashia, a vegetable processing facility/ and a bakery. These facilities will help meet more than 80 percent of the company's demand in Russia…
I have seen the poultry section around Tula and as in America McDonald's produces all her own products and it looks like Russia has reached that point. It is being understood that in less than two to five more years McDonald's Russia will be well on the path of self sufficiency and franchising will become the norm. That is were the money is at…
This weekend as Sveta and I shopped for supplies. We stopped at a McDonald's that we had not stopped at for quiet awhile. It had been completely remodeled into the new Green Style that McDonald's is doing all over the world. It was packed with customers and they had removed all the kids play area and made seating like sardines in the remodeled store. This is what we are seeing at all the McDonald's in Russia. Forget the kids, just get as many people inside that you can and they also have done away with free WiFi also. McDonald's in Russia does not need gimmicks to make it as they are simply feeding machines at as high of a pace as it is possible. One average McDonald's in Russia has to be running at the pace of 3 or 4 McDonald's in America. It was as I explained to Sveta, That I could open another McDonald's next door to this McDonald's and both would make huge money. I watched a thousand dollars worth of business walk back out the door as we sat and ate Saturday at this McDonald's. Yes they have that much business. Lines are out the door and stay that way for most of the day and the drive through which is 24 hours at all Russian McDonald's is always wrapped around the building. Also most McDonald's in Russia have a walk up window and it is normal to see 20 people standing in line waiting there also. The employees and management were doing the best they can but as always it is never enough to counter the demand in Russia…
I have learned to look the other way now,  as I am no longer part of that type of life, but I still notice things and that is just ingrained in me…
So while the McDonald's near us has not opened yet, I see the signs that it is maybe only a few weeks from opening. I promise you that it will go gang busters and our neighborhood is going to become trashed with McDonald's wrappers and such. I told Sveta, "Just wait, you will know when the doors open as you will see french fry containers for McDonald's all over the place."
You see the kids here leave school to eat lunch and McDonald's will have at least 4 large schools nearby to help boost business… 🙂
Russian's love their McDonald's…
Kyle Keeton
Windows to Russia!