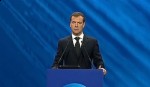 In the modern world the media are not the key opinion-makers anymore –Russia's President Dmitry Medvedev stated at the Yaroslavl Global Policy Forum 2011. He noted that before a couple of channels, papers and radio stations were enough to form a public opinion but now millions of Internet-users shape the leading info trends.
"Today everyone can be a news-maker changing the world", Medvedev said noting that new media technology made the world diverse and complex and taught people to respect alternative views.
To find out more on the issue, read at Yaroslavl Global Policy Forum
Windows to Russia!