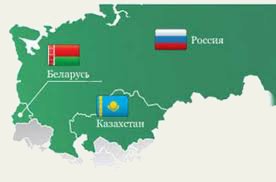 PETERSBURG, June 15 – RIA Novosti. Russian Prime Minister Dmitry Medvedev proposed to consider the possibility of introducing a single currency within the Eurasian Economic Union, which is planned to be established in full by January 1, 2015.
"We need to think further ahead, you have to think on the scale of the Eurasian Union, to which we are going and which should occur by 2015, including such matters which have, perhaps, not the subject of ongoing conversations, but you need to think about that, especially with Considering the volatility in global markets, bearing in mind the issues of the introduction of some units of account, and ultimately, perhaps, the output of the single currency, "- said Medvedev, speaking at a business forum" Single Economic Space: New Opportunities for industrial development. "
Why just today the Belarus president made it clear that using the Russian ruble is not out of the question, as the replacement for the Belarus ruble…
Hmm…
Medvedev is still on the replace the dollar…
Windows to Russia!
PS: After how pissy America and Europe have been to Ukraine lately! Ukraine needs to get on the band wagon and join this group…