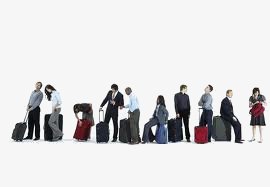 President Dmitry Medvedev has instructed the Russian government to think about how to simplify the entry into the country by foreign tourists before the summer. In his opinion, the old visa system is hindering the development of tourism in Russia, which was visited last year by a little over two million foreign tourists. Svetlana Andreeva has prepared the following piece about tourism in Russia.
President Medvedev believes that Russia can double the number of foreign visitors to the country per year, thus climbing to a higher rung on the tourism ladder from the present 59th position. It is difficult to say how the entry of tourists into the country can be made easier, including those traveling on-board cruise ships and yachts. In all probability, Russia will not decide to invent the bicycle, but to travel along a beaten path, says Andrei Klimov, Chairman of the State Duma Committee on International Affairs.
"There are well established forms and methods in the world.  When a cruise liner sails into a port of a country for a day's stay, it is not mandatory for a tourist to hold an entry visa, in order to go ashore. A special card on which "has entered the country" is stamped, is handed to the tourist. Armed with that card, a tourist can go on a sight-seeing of the country. On returning to the vessel, the card is stamped again. It is also vital to simplify tourism in the areas of cross border cooperation", Andrei Klimov said.
Russia has a system of making it easy for foreign visitors to enter the country. Four years ago, supporters of the Manchester United and Chelsea football clubs, who played the final of the Champions League, which was hosted by Russia, entered the country without visas. Everything went smoothly then. There is now an amendment to the Russian law, allowing supporters to travel to Russia without a visa for a specific sporting event, after a preliminary agreement. This applies only to supporters, says Maiya Lomidze, acting Director of the Association of Russian tour operators.
"After taking this step, we need to go further towards easing the entry regime as a whole, and the results will be seen and felt".
Any easing of the entry visa requirements plays a positive role in the efforts to increase the influx of foreign tourists. European and Asian tour operators say that the Russian visa system is hindering the efforts to increase the number of foreign tourists to the country The need to liberalize the entry rules, as well as to cut to the minimum the number of documents to be filled before a visa is issued has compelled President Medvedev to ask all the regional governors to work out a program of the development of tourism in Russia. (VOR)
Windows to Russia!