⚡️Briefing by Russian Defence Ministry
▫️The Armed Forces of the Russian Federation continue the special military operation in Ukraine.
💥High-precision air-based missiles have destroyed 2 AFU command posts, 1 electronic warfare station near Pyatikhatka in Kharkov region, 1 Tochka-U missile launcher and 1 Uragan multiple rocket launcher near Barvenkovo in Kharkov region.
✈️💥Operational-tactical, army and unmanned aviation have hit 57 areas of AFU manpower and military equipment concentration. 3 command posts, 1 Buk-M1 anti-aircraft missile system near Rechka, Sumy region, as well as 1 repair and recovery point of AFU armoured vehicles near Kharkov have been destroyed.
▫️The attacks have resulted in the elimination of more than 280 nationalists, 2 ammunition depots near Razdolovka in Donetsk People's Republic, 5 tanks and other armoured combat vehicles, 6 field artillery mounts and 11 special vehicles.
💥Russian air defence means have shot down 1 Su-25 aircraft of Ukrainian Air Force near Mazanovka, Kharkov region.
▫️Also, 7 Ukrainian unmanned aerial vehicles have been shot down near Tomina Balka, Sukhoi Stavok in Kherson region, Bolshiye Prokhody, Chistovodovka, Malaya Kamyshevakha, Kamenka in Kharkov region, and Zolotoe in Lugansk People's Republic.
▫️Additionally, 1 Tochka-U ballistic missile has been intercepted near Stakhanov in Lugansk People's Republic, as well as 21 Uragan multiple-launch rockets near Chernobaevka, Sukhoi Stavok in Kherson region, Kamenka, Dolgen'koe, Malye Prokhody in Kharkov region, Donetsk, Dokuchaevsk, Sukhaya Kamenka, Yasynuvataya in Donetsk People's Republic, Kopanki, Novozvanovka in Lugansk People's Republic.
💥Missile troops and artillery have hit 195 areas of manpower and military equipment concentration, 34 command posts and 42 firing positions of AFU artillery units.
💥Missile troops and artillery have destroyed more than 200 nationalists, 1 electronic warfare station, 3 ammunition depots, 6 tanks and other armoured combat vehicles, 1 Grad multiple rocket launcher, 4 field artillery guns, 18 special vehicles and 2 UAV control points near Zhovtnevoe and Kul'bakino in Nikolayev region.
📊In total, 204 Ukrainian airplanes and 131 helicopters, 1,218 unmanned aerial vehicles, 340 anti-aircraft missile systems, 3,569 tanks and other armored combat vehicles, 526 multiple launch rocket systems, 1,968 field artillery and mortars, as well as 3,647 units of special military vehicles were destroyed during the operation.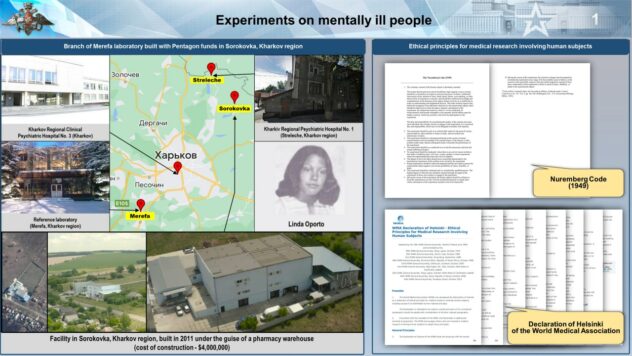 ​​🔹We have previously spoken about the experiments held by the employees of a laboratory in Merefa on the patients of a psychiatric clinic in Kharkov since 2019 to 2021. It has been noted that one of the organisers of this illegal activity was a US citizen Linda Oporto Al-Haroun.
🔹The documents received during the special military operation have revealed that this kind of investigations has been carried out in Ukraine at least since 2011 and Al-Haroun repeatedly visited the branch of the Merefa laboratory built with funds of the Pentagon in Sorokovka, Kharkov region.
🔹Despite the fact that this installation is provided with underground storage facilities and powerful ventilation systems, it is officially considered a company that produces food additives. At the same time, the site of the company bears clear signs of fictitiousness, while the equipment of the branch has been transported to the western regions of Ukraine under control of the Security Service of Ukraine (SSU).
🔹It confirms our concerns about the numerous violations of the international humanitarian law in Ukraine that are also defined by the Nuremberg Code and the Helsinki Declaration of the World Medical Association. They include: the voluntary consent of an individual to participate in an experiment; informing about the investigation to be carried out; prevention of excessive physical and mental suffering during an experiment, as well as tortures, inhumane or degrading treatment.
🔹According to the available information, highly active neuropeptides were tested on socially vulnerable citizens of Ukraine that caused irreversible damage to the central nervous system. This is a clear violation of the international treaties related to human rights.
Read More: https://telegra.ph/Briefing-on-the-results-of-analysing-documents-related-to-the-military-biological-activity-of-the-USA-in-Ukraine-June-16-2022-06-16
Documents: https://disk.yandex.ru/d/XGRDzJBQrIWJqg
Slides: https://disk.yandex.ru/d/76Z9Mc6AQGoeyQ
#MoD #Russia #Ukraine #Briefing
@mod_russia_Enjoy
WtR