I guess I am getting old sometimes. I wake on a Monday and find myself humming the "MAMAS AND THE PAPAS" song, Monday Monday… 1966 is the first time I heard this song and it rocketed the Mamas and the Papas to the top. Every Monday you could hear everyone going to work and school humming this to themselves…
Monday, Monday, so good to me;

Monday morning, it was all I hoped it would be.
Oh, Monday morning, Monday morning couldn't guarantee
That Monday evening you would still be here with me.

Monday, Monday, can't trust that day;
Monday, Monday, sometimes it just turns out that way.
Oh, Monday morning, you gave me no warning of what was to be.
Oh, Monday, Monday, how could you leave and not take me?

Every other day, every other day
Every other day of the week is fine, yeah.
But whenever Monday comes – but whenever Monday comes
You can find me crying all of the time.

Monday, Monday, so good to me;
Monday morning, it was all I hoped it would be.
But Monday morning, Monday morning couldn't guarantee
That Monday evening you would still be here with me.

Every other day, every other day
Every other day of the week is fine, yeah.
But whenever Monday comes – but whenever Monday comes
You can find me crying all of the time.

Monday, Monday, can't trust that day;
Monday, Monday, it just turns out that way.
Oh, Monday, Monday, won't go away;
Monday, Monday, it's here to stay.

Oh Monday, Monday
Oh Monday, Monday
I still do sing it many Mondays…
* * * * * * * * * *
Therefore, as I walked Boza at 4 a.m. I hummed this song over and over in my head. Of course when I burst out sing once or twice, Boza looked at me as he rolled his eyes and ran away, like I was spouting the words from a demon or something. Boza prefers quiet and me not to sing. If I sing in the home, Boza moans and sighs, as he tolerates the intrusion. Boza is funny that way…
* * * * * * * * * *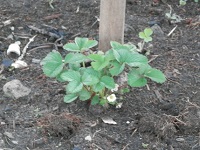 I am posting this image of our strawberries for Svetochka. We have blooms galore and Sveta will have fresh strawberries this year. Right from our garden…
Yummy Yummy for the Tummy…
* * * * * * * * * *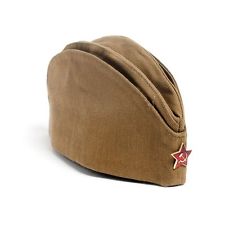 A Pilotka Hat was given to me yesterday. It was originally a hat for pilots, but was adopted by all parts of the Soviet Military. The hat is still used in the Russian army, but is mainly a dress uniform hat now. The pin insignia on the front is designation of the military branch that you were in…

Vova gave this hat to me yesterday. It was Saint Nicholas Day at the Tiny Russian Village. Very important day, for our village monastery is about this saint, The Saint Nicholas…
Personally, I like it and will wear it as I walk with Boza. It has ear flaps and is waterproof. Just the necessary hat for the village and since Vova calls me Nichole, I get included in all these special days in the village…
Yes I like it… 😉
* * * * * * * * * *
It has been raining like crazy. I have now over 200 liters of water in buckets and barrels. This is important, for soon we will not have much rain? Maybe; and then I need the water for the garden and other stuff. Just a good thing to have and in my world, no one tries to tell me not to collect water. I went through that in America. I was threatened for collecting rain water, kinda stupid, kinda seems silly. But; I had cops force me to dump the water down a street drainage area, so that I would not be fined and go to jail. Yes it was in a city… LOL… But I could water the garden with city water? Huh!
* * * * * * * * * *
I love the ever changing valley. It is so cool when it fogs over at tree level. I understand now about why we have so many songs about valleys in America. A valley is a safe haven, has a river and very rich fertile soil…
* * * * * * * * * *
Svetochka may come this week?????
Yippy Yippy Zippy Yea! Boza and I want our sweet pea to come and say hi! We miss her and enjoy when she is around. I said to Boza, "Mommy coming!" Boza runs in circles and then goes outside to see where she is at. That was bad of me, to get him excited to see his mommy…
But I followed him and ran in circles also… ¯\_(ツ)_/¯
* * * * * * * * * *
Speaking of sweat peas; I have to build the trellis today. The peas are putting out tendrils and will want something to grab hold of. So wonderful to have peas fresh off the vine…
* * * * * * * * * *
Gotta go! Have lots to do and I have to get it done between waves of mosquitoes. The sun is shining now and the day looks simply delightful. So when the mosquitoes settle for the daytime, I will build a trellis and try to weed the garden. I cut the stakes for the trellis yesterday and the mosquitoes ate Boza and I up…
( ⚆ _ ⚆ )

WtR
This is the End by The Doors….remember this well…
All the children are insane…