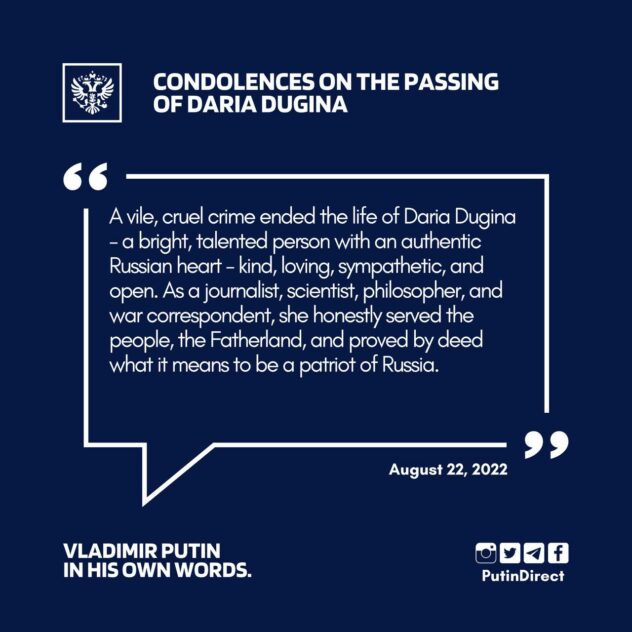 ⚡⚡ Russian tycoon Konstantin Malofeev posted a message which he said was from Alexander Dugin:
▪"[My daughter] was a beautiful Orthodox girl, a patriot, a military correspondent, an expert on the central television channels, a philosopher. Her speeches and reports were always profound, grounded and restrained. She never called for violence or war," the message said.
▪"She was a rising star at the beginning of her journey. The enemies of Russia killed her in a scummy, underhanded way. But we, our people cannot be broken even by such unbearable blows. They wanted to crush our will with bloody terror against the best and most vulnerable among us. But they won't succeed," the message added.
▪Dugin wrote that "revenge or retribution" would be "too petty, not in the Russian way," and that "we need only our victory. My daughter has laid her life on its alter. So win, please!"
Subscribe to @SputnikInt
Putin called Daria Dugina's murder a vile and cruel crime, the Kremlin said. According to the president, she honestly served the people and the country, and she proved by deed what it means to be a patriot of Russia.
⚡📹 Russia's FSB has published a video of the suspect in the murder of Daria Dugina showing her entering Russia, moving into the same house as the victim, and leaving for Estonia
Subscribe to @SputnikInt
https://www.unz.com/pescobar/fly-like-an-eagle-darya-dugina/
Daria Dugina, the daughter of Russian political philosopher and analyst Alexander Dugin, has been murdered! We Martyred someone…
This is getting interesting to watch. Shall we see where it leads?
WtR