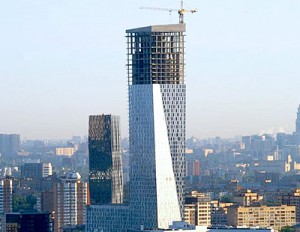 The builder called  "House on Mosfilmovskaya" has for the first time in the history of Moscow, begun to disassemble the top of an already constructed 47-story skyscraper. The skyscraper was built illegally to specs and  exceeded the parameters agreed upon with the city authorities according to original plans. Moscow said lower it or else…
So they have already completely disassembled the horizontal part of the concrete roof and removed part of the piers to support it. Builders have also pulled down part of the cladding and glazing, which covered literally 5-6 floors.
During the construction of the residential complex "House on Mosfilmovskaya" stuck in  "a flagrant violation" – a 40 meters increase in the height of the building.  The exact number of floors the building would be lowered has not been specified at this time.
You may ask why did they try to get away with this?
Because price of 1 square meter in this building is from 217 thousand to 320 thousand rubles. Building was scheduled to be commissioned in the fourth quarter of 2009.
Oops… 🙂
Windows to Russia!