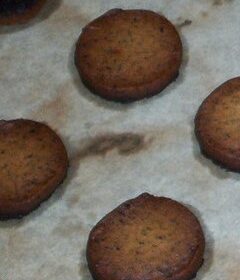 Being diabetic and trying to enjoy an occasional treat, even if that treat is low sugar, is a thing that I have to do….I usually buy the cookie in the Big Village when I am in the Tiny Russian Village. Yet, Moscow does not have such cookies and that is a bummer!
Therefore, I must invent my own cookie, so that I can have a treat….lets start 2022 with a cookie recipe…
My Russian Three Ingredient Cookie!
Ingredients:
1. 4 oz. (1/2 cup) real butter, melted to make it easier.
2. 2 oz. (1/4 cup) real Russian "sugar beet" sugar.
3. 12 oz. by weight (3 cups) all purpose flour. (Who cares? Don't sift!)
Instructions:
Work together butter, with sugar and flour by hand. When well kneaded together? No keep kneading that dough and okay that is good…
Lay the dough on a flat floured surface and roll out 1/2 inch or up to 2 cm thick…
Cut the dough into shape you desire. Round, square, triangle, whatever floats your boat! My boat floats with round cookies…
Then put on baking paper on a baking sheet and bake for 20 minutes at 325 F. (Actually I do mine at 15 to 20 minutes at 200 C. and nice and medium to dark brown. I even eat them burnt.)
I like them dry, hard and almost non-sweet…
Notes: (Above recipe, add extra moisture to as to your tastes) Made to dip in coffee. Made so that a diabetic can enjoy a taste of sugar and not over do it. Made for just one or so a day (or maybe two and or three a day….okay four a day, no more than that~~). They will last a long time as they are very dry….unless you eat them all dipping them in coffee all the time…
WtR