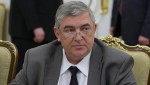 New charges will most likely be brought against Moscow's ex-subway chief Dmitry Gayev, who is already accused of abuse of power and embezzlement, a source from the investigative authorities said on Friday.
"The evidence against Gayev…suggests new charges could be brought against him," the source said.
Gayev, who was managed the Moscow rapid transit system for more than 15 years, has been charged with siphoning off 112 million rubles ($4 million) in public funds.
He resigned in February after allegations of fraud and embezzlement came to light. He could face up to four years in prison if convicted.
Irina Dudukina, spokesperson for the investigative committee of Russia's Interior Ministry, said Gayev illegally patented the electronic subway tickets used today that replaced tokens in 1999 and received 112 million rubles in patent proceeds over the following 11 years.
MOSCOW, March 25 (RIA Novosti)
Windows to Russia!