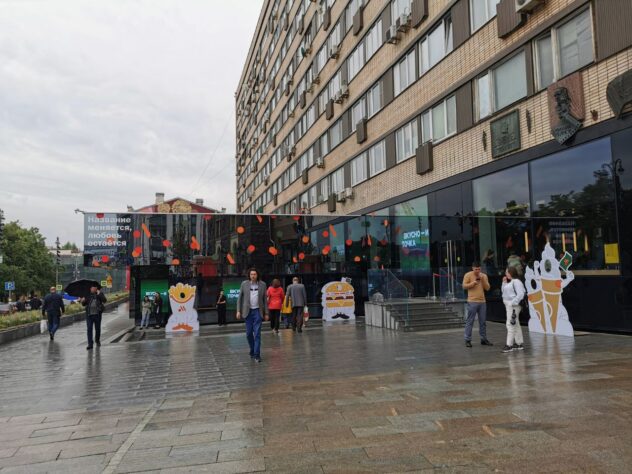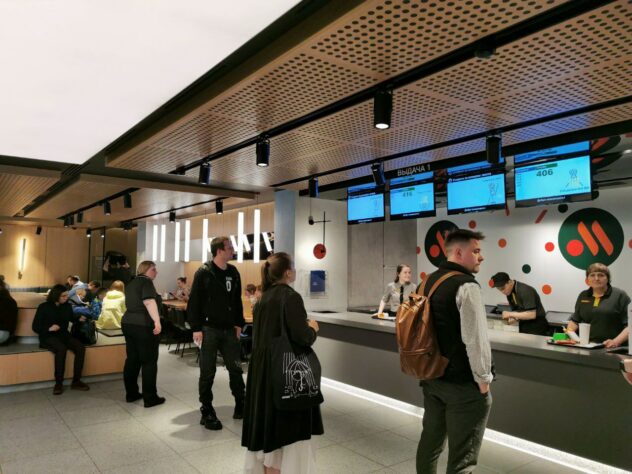 Sweetpea and her son went to the new fast food in Russia. It simply is the same as the old and when I asked Sveta what she had? As 90% of the time she ever went to McD's she said, Fish Fillet! Except now it is called Fish Sandwich and she said it tasted exactly the same as before. Then when I asked about the name of the place? That is when I get the same from my Sweetpea as everyone who sees the name?
The working name for the new brand has been announced as 'Vkusno & Tochka'…
Vkusno translates to Tasty and from there I get twenty answers for the next part…
Tochka translates as the period at the end of the sentence you just wrote (.)
"dot, point, period, full stop, full point"
So after talking to my Russian Expert, SweetPea?
I get nowhere farther and she just says Tasty and "that is it"!
So I decided to correct this "Whatchamacallit" issue…
The old McDonald's is gone and 'Vkusno & Tochka' is now the new name. So Tasty and 'blah blah' does not work for me. nor as a business name. The name as with so much in Russia is backwards and that is that. It is Russia you know?
What they are saying is that the new McDonald's called 'Vkusno & Tochka' is "Just a Tasty Place to Eat!" and that is it period! That should become for being easy to react on the great billboard of life type advertisement, "Just Tasty"…
Which easily means that our food is just tasty and delicious, Yummy!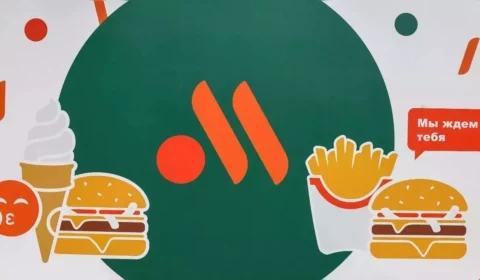 Thus, it seems to be being called more often than not, 'Tasty Period' and I guess that works, except that means it is, "Just Tasty"! It is also called Delicious period, Delicious Dot, Tasty Dot and oh well. That is the key right there. Tasty is okay, but delicious is grand! Tasty is not a word to intermingle with delicious. Delicious is connotative to a much higher level of yummy, than just being tasty. You would not tell mamma her food is just tasty!
Mamma's food is delicious!
My business senses scream when I machine translate and that is exactly what a billion Indians and Chinese will do as they travel to Russia for holidays. Many times it says, "Tasty and Dot". Excuse me? I just wanna eat and not have to decipher what kind of food this place is gonna feed me? Is is delicious? Is it good? Why do I have to eat DOTS?
The name bothers me from a rational promotional point of view and if I question the name, then there is something wrong with the presentation of the name. I ran corporate food service for years and years and I have owned several very successful restaurants. I do know what I am talking about, even if you don't care about what I am talking about…
From a Russian perspective? Since Russians are such a introvert society, it all works and they just go with the flow. Though they could have put a punch into the name as it is spoken…
'Tasty Period' should be 'Just Tasty' and that does not work as it should. 'Just Tasty' is still not expressive enough for a business. Then I woke this morning and decided to give my two cents worth on this subject. Sorry but the name irritates me. Thus I, whom no one cares to ask, have settled on what they did wrong?
Prosto Vkusno (Просто Вкусно) or my finale say in English…
"Simply Delicious" and or "Just Delicious" – the beginning is acceptable to have variants, the ending has to be delicious. What ever food they serve is delicious. Not just tasty, not just good, not just food, not just okay, but delicious!
That is a solid name for the new fast food in Russia. It brings forth the desire to eat and evokes the good feelings of wholesome foods! It also does not have a mile long list of variations to confuse the peasants. It simply is what it reads as, "Prosto Vkusno says, Simply Delicious" and the Chinese translating it, get the ideal that the food within is tasty, delicious, yummy and simple and basic. Just what someone traveling needs to understand…
Instead we have "Tasty Whatchamacallit", because everyone has a different ending for the name!
And my Sweetpea went to try 'Vkusno & Tochka' and munched!
"How did it taste?", I asked…

"Like McDonald's", she said…
WtR