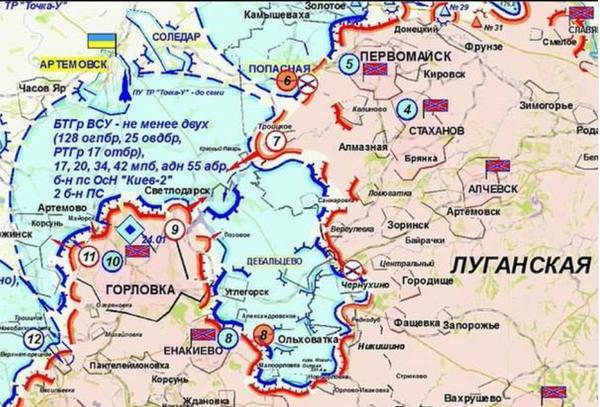 Debaltsevo Cauldron has been a huge topic on this side of the world, this is a focal point in Ukraine, that has caused many in the American government to desire to send lots and lots of weapons to the Kiev Junta to help them to kill more Ukrainians. Therefore the Debaltsevo Cauldron is almost choked off and by most reports is closed, except for a narrow passage to let men escape, 10,000 plus men from the Kiev Junta army have been trapped or are going to be trapped and Kiev left them there to die…
This is what you get when you have people fighting for their homes, against people who are trying to take their homes from them. Now you see what really happens in all the American wars that they put boots on the ground, the people that live there fight for their lives and homes, thus we lose…
The reports are that 20,000 plus Ukrainian men are crossing the border per day into Russia. It now stands at 1.5 million Ukrainians have fled to Russia to either stay alive or escape forced draft to kill their fellow country men. This is the difference in men who fight for their lives and men who are forced to fight for the corporations and governments. The men, women, and children in Novorossia, fight to survive against a western backed and armed army for Kiev…
terrible.compressed download
Do not watch this video if you are squeamish; it is real, bad, terrible, and exact. It does not cover up, the horror and if you watch, be ready. The people of Novorossia are rightfully pissed. Reality of war is hell and Ukraine is hell now; thanks to America… Thank you America…
Translation Corrections as the video has hard-coded subs…

Around 4:41, "And if we dropped on Kiev such mines?" should be, "And if we dropped such mortar rounds on Kiev?"
At 5:22, a more accurate translation would be "You'll rebuild our city."
Around 8:30 to 8:57, "trucks" should be "armored vehicles (BMPs or BTRs)."
At 12:11, "respected" should be translated as "my good fellow."
At 19:31, should be more like "…his hands go lame", not his "…hands dry out." They are translating too literally.
At the end, the security guy is just joking about hanging him, obviously that's out of the question. These POWs will be traded for NAF POWs.
In the past 16 days, according to reports,
Ukraine's army lost 136 tanks,
110 combat infantry vehicles and armored vehicles,
80 artillery units and mortars, and 58 cars.
Personnel losses stood at 1,569 people."

After the cauldron is "cleaned up", how much of the Ukrainian hardware is going to stay? Last time they were kicked out, they lost 60 % of all their hardware, even assuming they could substantially re-arm from the west, how much are they going to lose this time around? Another 40 %, perhaps? Is there anything to stay in the Ukrainian arsenal, I mean worth mentioning? Then this is why America is frantic to rearm Ukraine, it has lost everything to Novorussia. Thus the inner conflict developing in American politics…
Last I heard the Ukraine army is almost completely out of ammunition; about 4-5 weeks worth left, what then? And they have used their reserves up now, so they have no real offensive forces left. Therefore they are trying to force the men to fight, men from 18 to 60 years old, maybe younger and older from the rumors that I hear. The men are running from the west Ukraine in droves, thus the mercs are being brought in and they are now dying in groves…
It may be easier all round if the Kiev Junta just wrote a list of weapons they would like and send it straight to Obama, thus cutting out the middleman!
Listen to what is said in the video above. I suspect there is more war resistance than we know in Ukraine. So many are deserting, whole battalions of them, and they tell the same story…

"We thought we would be fighting Russian military invaders until we got here and saw who we were really fighting."
Who where they fighting?
Their families, their countrymen, their souls…
Time to wake up and stop this, America admits they did it and America wants to keep arming the Kiev Junta. Why? Because we started it and we hate to lose, yet we always lose…
Posted by Kyle Keeton
Windows to Russia…
Flesch-Kincaid Reading Ease: 74.6