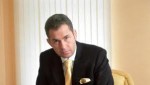 GORKI, April 7 (Itar-Tass) – Russian President Dmitry Medvedev urged regional ombudspersons for children's rights to step up their work without waiting for instructions from Moscow. At a meeting with ombudsman under the Russian president for children's rights Pavel Astakhov on Thursday, the head of state underlined that this institution had justified itself.
"It is important that those who take the post (of ombudsperson for children's rights in Russian regions) are resolute and vigorous people, so that they awaken the officials responsible for children's rights," Medvedev said, there should be no vertical in these relations: they should seek out what they have to do by themselves (regrettably, there's plenty of work), without waiting for instructions, and find solutions on their own.
Astakhov informed the head of state that in December 2009, when he was appointed to the post, there were just 18 ombudspersons for children's rights in regions, while at present, 70 constituent territories of the federation have set up this institution. "Thirteen constituent territories of the federation keep making excuses and are stalling. Among them are the most problematic regions from the point of view of protecting children's rights – Tuva, the Baikal region and Khakassia.
The president underlined that he was largely pleased with the ombudsman's performance. "When I was making the decision to set up this institution, I had misgivings regarding its effectiveness, but practice showed that it was important to have someone to set guidelines by his own example for regional leaders, and directors of federal agencies and the services concerned. I hope you will continue this work.
"You try nor to leave alone civil servants, governors, and heads of municipalities, create necessary conditions for protecting childhood and I believe you are successful, by and large," Medvedev said.
Astakhov presented a report on his work to the president. Since his appointment, 50 regions have been checked for violations of children's rights. Ombudspersons have reviewed some 5,000 complaints, most of these problems have been settled.
More than 60 criminal cases were opened over violations of children's rights, and some 50 officials were fired.
"This institution formed as an independent government legal institution, and coordination of work involving 19 federal children's rights protection agencies allow for achieving results," he noted.
Statistics says the number of cases involving loss of parental rights decreased in 2010.
"It would be incorrect to claim we are taking children from parents en mass; we've begun to use such measure as restriction of parental rights, more often," the ombudsman said.
Windows to Russia!