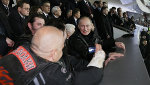 Russian Prime Minister Vladimir Putin, who is on an official visit to Serbia, on Wednesday attended a football match where he met with several local bikers.
The bikers from Macedonia and Serbia are members of the Russian bike movement Night Wolves, whose leader Alexander Zaldostanov, aka Surgeon, met with the premier last year in Ukraine.
One of the bikers, Goran Jovanovic, said most of them participated in the 1999 NATO bombing of Yugoslavia. Jovanovic himself lost a leg during the war, but this has not stopped his passion for bikes.
Announcing plans over possible Russian-Serbian biker projects, Jovanovic said they had already staged a tour through the NATO bombing sites in Serbia, commemorating those who were killed in the war.
"Together with the Russian side, we have an idea to hold a bike show in 2014, marking the 100th anniversary of the outbreak the World War I in honor of the Russian Expeditionary Force and Serbs killed during those years," Jovanovic said.
Though the stadium was not packed, some of the fans were chanting "Russia!" and holding portraits of Putin. After the host announced that the Russian premier was in the crowd, Serbs started singing Katyusha, one of Russia's celebrated Great Patriotic War songs.
Windows to Russia!