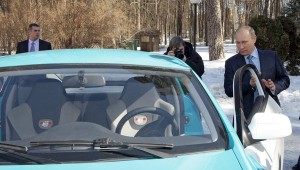 Russian Prime Minister Vladimir Putin test-drove Russia's new Yo-mobile hybrid car on the ten kilometer route from his residence to President Medvedev's country house outside Moscow on Friday.
Yo-mobile, a project by Russia's Yo-Auto, a joint venture between truck maker Yarovit and billionaire Mikhail Prokhorov's Onexim group, will start production of Yo-Mobile hybrid cars in St. Petersburg in the second half of 2012.
"I am not ready to make any conclusions," Putin told a high-tech commission meeting. "I want to drive this Yo-mobile of yours to Dmitry Anatolyevich [Medvedev] and show it to him."
In December, Prokhorov presented three prototypes of the hybrid car, including a hatchback, van and cross-coupe vehicle models. New production cars will cost 350,000-450,000 rubles ($12,000-$15,000).
Putin drove the sports cross-coupe version, accompanied by Yo-auto Director General Andrei Biryukov. Prokhorov drove a microvan.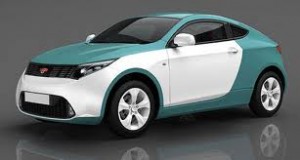 Biryukov said the complete version of the car would be four-wheel drive and equipped with cruise control, GPS/Glonass navigation and climate control. He said the car was attractively priced because it was based on cheaper new materials.
Yo-mobile is not the first car that Putin has test-driven. In August, he tested a Russian-made Lada Kalina. He drove it for four days from Khabarovsk in the Far East to Chita in Siberia, covering a distance of over 2,000 km (about 1,000 miles).
In November, he drove a Formula one car at a speed of 240 km an hour (150 miles an hour).
Putin's passion for cars also became prominent when he drove French President Nicholas Sarkozy in a black Mercedes in 2007.
According to his tax declaration, the premier and former president owns two Russian Volga cars, a Russian four-wheel-drive Niva and a trailer car.
Windows to Russia!