Black Radish and Honey… (Редька с медом от кашля)
1. Look for a big black radish, they grow huge. Scrub the radish and make sure it is clean on the outside and no rot. Cut the top off a quarter of the way down, then dig a deep hole down the middle. This hole is where you fill it with honey.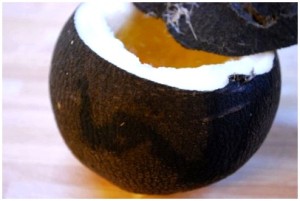 Let the radish full of honey sit and soak. I put the top back on and drink several cups of coffee, It takes about 5 hours for the radish and honey to do their magic…
Then as your family member has a cough, you will cure that cough with this Russian home remedy. Give then a spoonful of radish flesh and honey every hour until cough subsides. This will also help very much with bronchitis…
2. Another way to make this for people who dislike eating radishes: Cut black radish cut into small pieces, place in pan and layer with honey. Bake in low temperature oven for 2 hours. Use just the juices produced and throw away the radish. Take radish juice for cough, one tablespoon at a time, 3-4 times a day before meals and at night before bedtime…
There is a couple of other ways to produce this, but you get the gist. It has to be black radish and honey. They have to mix together, either by heat, nature or self-crushing and mixing. It is the combination of the two that do the work and the juices that mix…
Some use red radishes and sugar and report not as satisfactory results. What can I say?
Use black radish and real honey and cure that cough… 🙂
Post by Kyle Keeton
Windows to Russia…